Make jazz your New Zealand Music Month soundtrack
In celebration of Te Marama Puoro o Aotearoa NZ Music Month 2023, Jazz staff at Te Whare o ngā Pūkōrero Pūoro School of Music share seven great moments in the history of Aotearoa jazz.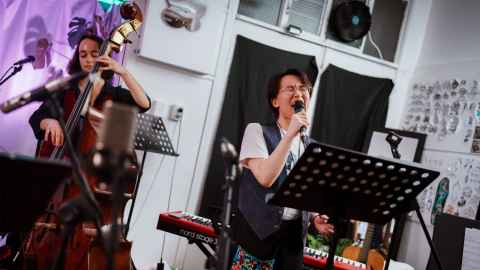 Whether you love all music, are a jazz fan, or are simply curious about jazz, we encourage you to explore this curated list and venture out to a recommended gig!
Whirimako Black: Soul Sessions (2006)
"In 2006 Whirimako Black (Ngāti Tuhoe, Ngāti Tuwharetoa, Ngāti Ranginui, Kahungunu, Te Whakatohea, Te Whanau-a-Apanui, Te Arawa, and Ngāti Awa) released an incredibly beautiful and soulful album of standards, many sung in te reo Māori, that still stands as a benchmark expression of cultural hybridity in music. With support from School of Music lecturers Kevin Field (piano, keys) and Ron Samsom (drums), this recording has plenty of elements that are very familiar to fans of jazz, blues and soul music while still sounding 100% like Black's own; an accomplishment that sounds effortless while in reality is nearly impossible given the long and rich history of American music."
Mark de Clive-Lowe: Hotel San Claudio (2023)
"Speaking of cultural hybridity, Mark de Clive-Lowe delivered a flawless album (his 23rd as a bandleader!) in March of this year that continues to explore his Kiwi-Japanese heritage via the lens of being an active performer in one of the world's great international music hubs, Los Angeles, California. De Clive-Lowe's music is an inspiration to all of us at the School of Music and serves as an example of creating something new and unique in jazz that is still rooted in the musical tradition of multiple times and places."
Nathan Haines: Squire for Hire (2003)
"Released in 2003, this album is still shockingly good; from Nathan's individual performances and top-notch song writing abilities, to the variety of musical influences and genres present (each song could anchor a different playlist!), to the amazing contributions from special guest vocalists, and the long-lost art of creating jazz music that is both commercially popular and artistically satisfying."
Tauranga Jazz Festival (est. 1963)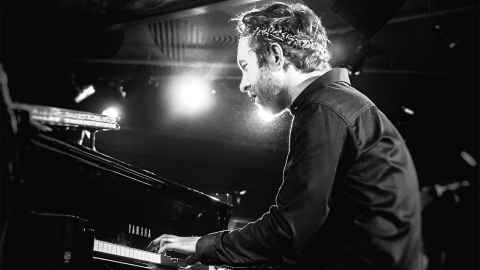 "From humble beginnings in 1963, where musicians played for free, the Tauranga Jazz Festival celebrated its 60th anniversary this year and is New Zealand's longest-running jazz festival. What is so special about the festival is that it also serves as our largest and longest-running youth jazz band competition, bringing the future of New Zealand music together since 1978. Many (if not ALL!) of our current staff and students have performed here."
Learn more about Tauranga Jazz Festival and add it to your 2024 plans.
Creative Jazz Club Aotearoa (est. 2009)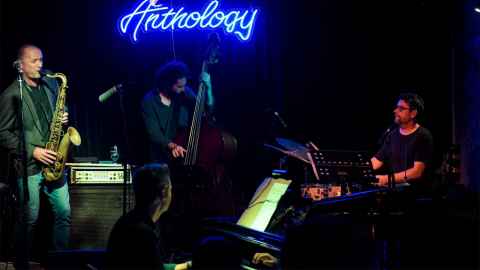 "Founded in 2009 by Senior Lecturer Roger Manins along with Caro Manins and Ben McNicoll, the Creative Jazz Club has featured a who's who of local, national, and international guests and is the home for creative jazz improvisation and composition in Tāmaki Makaurau Auckland. All of our staff members cherish this club because it provides a much-needed platform to experiment musically with new ideas and ensembles to present finished work to the world; in effect, it is both our laboratory and our showcase. If this club didn't exist, the city wouldn't have a viable jazz scene, it's as simple as that."
Learn more about Creative Jazz Club Aotearoa and go to a gig.
Rattle Records (est. 1991)
"Speaking of a viable music scene, Rattle Records has been the undisputed heavyweight champion of diversity in contemporary art music in Aotearoa since 1991. From classical to experimental to jazz and taonga pūoro, Rattle's discography is jaw-droppingly immense and is one of the best collections of original and unrestrained music from the South Pacific. Rattle releases tend to win big at the Aotearoa Music Awards each year, so it is impossible to select a favourite, but a well-loved album among those in the jazz department is Johnathan Crayfords' sublime 2015 release 'Dark Light' with NYC-based musicians Ben Street and Dan Weiss."
Wāhine in Jazz Tāmaki Makaurau (est. 2022)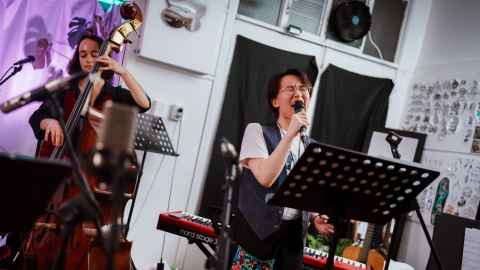 "Founded in 2022 by Jazz graduates Naamah Cheiban and Francesca Parussini via word-of-mouth and vegan bake sales, the duo created a safe space for female identifying jazz musicians to connect, collaborate, and learn about jazz language and improvisation. Such a space is desperately needed to nurture female talent as the music world is surprisingly still disproportionately masculine and patriarchal. We are all so proud of the bravery and positive energy of our female students and are very pleased that Creative New Zealand is now supporting their workshops, allowing them to bring in special guest artists."