Alumni spreading their wings around the globe
Ingenio catches up with three University of Auckland alumni whose degrees led them to roles in interesting parts of the world.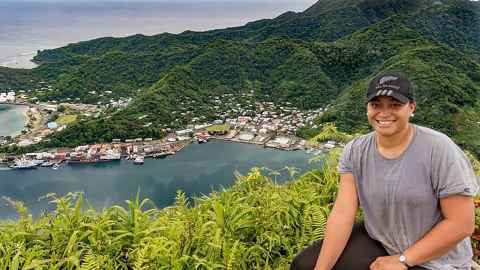 Natalia Palamo, Tutuila, American Samoa
I am an Island girl and I always will be.
When Natalia Palamo talks about 'spies' being key to her role as an engineer for the American Samoa government, it's not espionage she's hinting at.
SPIES – South Pacific Indigenous Engineering Students – supported her as a young Samoan in the Faculty of Engineering from 2007 to 2010.
"The SPIES group was my home away from home," says Natalia, acknowledging the group's role in helping her studies by teeing up mentorships, leading to lasting friendships.
She also credits her Auckland Samoan family whom she says "housed, fed and cared for me" as she studied.
"They say it takes a village to raise a child. For Samoans, your village is an international one and you're a child until you graduate from university," she says with a laugh.
After completing her studies, Natalia's first engineering job was in New Zealand, but for the past seven years, she has been working in American Samoa.
As chief engineer for the Department of Port Administration, she heads the engineering division, making her responsible for capital and maintenance projects for three airports and facilities at six harbours scattered across five islands.
"The only way in and out of our islands is through our ports. This isn't just limited to cargo and imports, but also emergency relief during natural disasters, which unfortunately our islands are prone to.
"So we need to make sure our ports are kept operational and safe."
Natalia loves the challenges and travel that each project and location brings. And being based on Tutuila, American Samoa's main island, she is handily located to visit her parents in the Independent State of Samoa.
"They are only a 45-minute plane ride away. Being close to them was a big part of my move here. I am an Island girl and I always will be. I loved living in New Zealand, but it was never quite the same."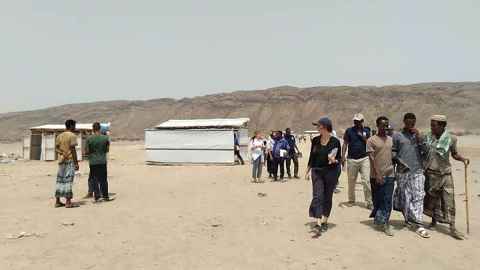 Nickie Wing, Nairobi, Kenya
I remind myself that small is beautiful, meaning one person can make a difference.
UN humanitarian officer Nicola (Nickie) Wing, speaking en route to the Turkey-Syria border where she was to join the recovery effort after February's earthquake, says she has well and truly exited the University of Auckland's Sir Owen G Glenn Building.
That was her haunt as she studied for a Bachelor of Commerce from 2013 to 2016.
"I've definitely come a long way since the old OGGB days.
"But I would say the University of Auckland sparked my interest in an international career.
"I remember being super engaged in the geopolitics classes, and my interest grew from there."
Before her Turkey deployment, Nickie was living in the Kenyan capital Nairobi where she worked in the UN's regional office for co-ordination of humanitarian affairs. That followed a two-year stint in Ethiopia.
"This arm of the UN deploys in sudden-onset emergencies, whether they be natural disasters or conflicts, to ensure affected civilians receive critical life-saving assistance. I work in what's called the access unit, negotiating and facilitating access to the most hard-to-reach areas affected by disasters and conflict."
It's work in which each new day is never the same as the last, often in exotic locations.
"Ethiopia was truly fascinating. Being one of the only countries in Africa that was never colonised, the culture is rich.
"Everything there is different, even down to the date and time."
She offers the fun fact that in Auckland on 17 February 2023, the corresponding date in Ethiopia, which follows the Coptic calendar, was 9 February 2015.
One thing her work has taught her is the benefit of keeping things in perspective.
"Working in such high-pressure and often intense environments, it's easy to get overwhelmed.
"I always remind myself that small is beautiful, meaning one person can make a difference."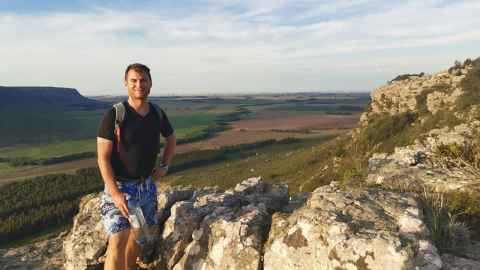 Aaron Hodges, Buenos Aires, Argentina
Living in Buenos Aires as an author, I feel I've finally found the balance I want.
Great though New Zealand's meat pies and beaches are, and despite his studies sparking a passion for the environment and outdoors, Whakatāne-born Aaron Hodges has ended up 10,000km away writing fantasy novels.
The 33-year-old Bachelor of Science in biology and geography and Master of Environmental Engineering graduate has put down roots in Argentina.
It's been a winding path to his present career and home, Aaron says, with the University of Auckland playing a big part in getting him there.
"My studies and coursework gave me the discipline needed to create my own goals and deadlines, and stick with them. All those essays and reports helped refine my writing to be concise and to the point."
And as surprising as it sounds, the study of environmental science – understanding the connections between an insect's habitat and its quality of life, for instance – has supplied him with problem-solving skills to call upon when devising his novels' plots and characters.
"If A happens to character B, they will respond with action C, which then causes character D to … and so on," says Aaron.
His first foray into fantasy fiction was during his early university days. The writing skills he honed as a student were subsequently put to work polishing his debut story into the novel Stormwielder, and 22 other published titles have followed.
"I love creating new worlds and characters from nothing, then throwing them all together and seeing how things play out."
For Aaron, his present occupation and location beat a regular job, even if his favourite pastries and coastline are out of reach.
"Life is about balance. When I worked a 40-hour week in an office, I found I was saving plenty of money but had little social life.
"When I travelled the world from country to country, eventually I found myself feeling unfulfilled. Now, living in Buenos Aires as an author, I feel I've finally found the balance I want."
Story by Anthony Doesburg
This article first appeared in the Autumn 2023 edition of Ingenio.
Read all Ingenio stories