Health and Rehabilitation Clients
Hear what our clients have to say about their journey back to health.
With the expertise of our clinical exercise physiologists Kathryn, Gemma, Ethan and David are well on the road to managing their health problems.

Kathryn Manners | Chronic heart problem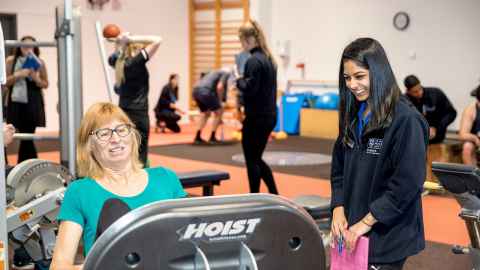 "I have a chronic heart problem resulting from a sick sinus node which meant my heart wasn't pacing properly.  As a result, 30 years ago I had a pacemaker inserted. My heart has deteriorated further over the years, and I have been living with constant atrial flutter and damage to my heart which now has 46% function. After a last chance ablation failed, I felt worse and with the realisation that I wasn't going to get any better. I was feeling gutted and asked my doctor if I could attend the Health and Rehabilitation Clinic - which someone had recommended to me years earlier."
"Since beginning my programme at the clinic my health and fitness has improved.  I am less tired and therefore I am able to do more.  My legs are stronger so I am able to do things I just couldn't do before. Also, my mental health has improved because connecting with people who have similar problems and worries has been very helpful. Nobody can take away your worries but while I am at class I am not worrying about other things."
"I'm going to continue with this clinic because they take your health problems seriously, they listen and can understand the problems/worries/issues you are talking about.  They never push you where you don't want to go. The people in charge have a huge amount of knowledge which makes you feel safe in exercising to your full potential - I would never have that confidence in a normal gym."
Gemma Phillips | Chronic Fatigue syndrome (CFS)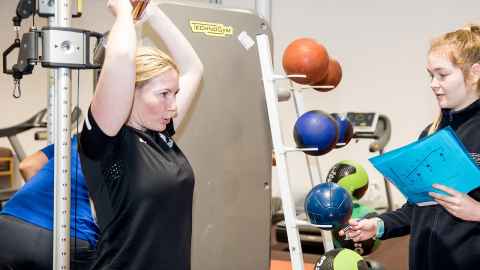 "I have Chronic Fatigue syndrome (CFS) and Hashimoto's disease (an autoimmune thyroid condition). This caused me to go from a very fast paced lifestyle to not being able to do anything. When it first came on I would swing between not even being able to move my legs or arms due to weakness and fatigue one day then to being able to move around but tire very quickly the next. I would ache everywhere and my vision was blurred. I would feel very faint when I would stand up and needed to be lying down a lot of the time. Because I needed to sleep so much I ended up losing muscle mass."
"Since starting the recovery programme my symptoms have improved. At this stage of my recovery I am trying to use exercise to overcome the fluctuation and unpredictability of my energy levels. Previously small activities were too much for me to do, but my stamina has improved a lot and I have increased quite a bit in muscle mass."
"Socialising at the clinic has helped my fear of going out in public and becoming unwell whilst in public due to everyone at the clinic being so supportive and understanding. The monitoring has helped me overcome my fear of getting back into exercise and I have picked up on a lot of cues that indicate when I am about to over do it and when I need to take a step back."
Ethan Tuwai | Head injury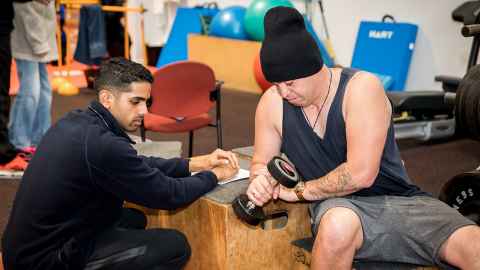 "I had an accident while I was riding my motorbike."
"My health before the accident was reasonable, but after regular classes with the Health and Rehabilitation clinic my strength is alot better, and I feel fitter and tougher than I've ever felt before."
"The students that I work with help me feel safe and confident. I'm even using a chest press now and my progress with this exercise in particular makes me keep coming back to the clinic, just because I feel so awesome."
David Willis | Sudden Cardiac Arrest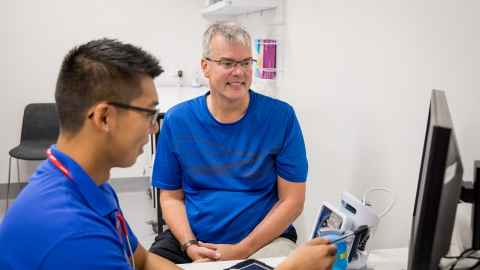 "On Easter Sunday 2017 I went for a jog on Omaha beach and suffered a 'Sudden Cardiac Arrest'. When I started attending the Health and Rehabilitation Clinic I was walking, but not very far, and preferred to have someone with me when out of the home. This was due to a general lack of confidence in my health.
"The prescription of exercise and expertise of the Clinic staff was invaluable. They knew what I'd been through and just what I needed, and how far to push me without doing any damage or scaring me. After just a few visits my confidence was on its way up and a few weeks later I was more than happy to walk outside the home on my own again. Plus, I was happy to carry shopping bags and do longer and longer walks without much cause to worry about dropping dead again!
"After a couple of months the clinic staff had me try running on the treadmill. They were aware this was a very big deal for me emotionally as I was jogging when I went into Cardiac Arrest and had not jogged since. The first time I jogged at the clinic I was attended by two clinic staff – my student and team leader – who were very encouraging. I may have cried a little. Now I can jog on the treadmill and in the community on my own. This must be directly related to the confidence I gained from the gentle buildup of my mental and physical strength from the Clinic attendance." 
You too can be on the path to wellness with a programme organised by our clinical exercise physiologists. Please phone us to talk about how we can help. We look forward to hearing from you.