We will teach you how to monitor your body's response to exercise and how to properly judge exercise intensity so you can stay within safe limits when exercising independently.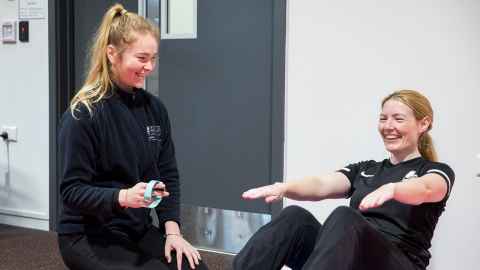 All our treatments are evidence-based and driven by assessment, and will be individualised to fit your unique needs.
When you join the Clinic, you will meet with one of our clinical exercise physiology students, who will work with you to design an appropriate assessment plan for your condition. Your assessment plan will include at least two sessions to evaluate your current fitness by measuring your heart and lung function, muscle strength, coordination and balance.
Following these exercise assessments, we will meet with you to discuss our findings and to explore treatment options. Our registered clinical exercise physiologists and students work alongside colleagues in allied health to prescribe you with safe and effective exercise. If you are under specialist care, or you require an on-going treatment plan to maintain your current health and wellbeing, please contact us and arrange an appointment.
Fees and programme structure
Consultation and assessment - $120
If you are a new client or have been away from our service for more than 12 months, the consultation and assessment includes four 1 to 1.5 hour appointments to complete a comprehensive medical history, assess exercise tolerance, muscular strength, mobility, balance and flexibility. Results of the assessment will be discussed with you during your last appointment.
One-to-one monitored exercise sessions - $50
In this session, clients will be taught to exercise safely while being monitored by a registered clinical exercise physiologist. This session includes instruction about safe and appropriate exercise at an individually prescribed training intensity.
Extended supervision programme - $400
This programme includes three booked supervised exercise sessions a week for three months. This programme can be renewed every three months.
Reassessment and prescription adjustment - $85
If you have been following one of our prescribed programmes for less than 12 months, this reassessment will include an adjusted exercise prescription based on the outcome of your reassessment.
The fees and programme structure is current as of May 2019
How to begin?
Refer yourself or ask your doctor for a referral to the Health and Rehabilitation Clinic. This is your first step towards gaining the confidence to make the transition to independent exercise.