About the Health and Rehabilitation Clinic
We provide high quality evidence-based exercise rehabilitation services for people living with heart disease and other chronic illnesses or injury.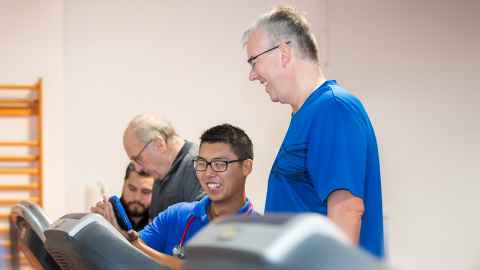 As a leading research and student training centre for postgraduate students seeking to become clinical exercise physiologist's, our clinic's operational structure includes our postgraduate students, who are a part of each client's clinical team. Based in our well-equipped physiology laboratory and biomechnics unit, each team is managed by experienced professional teaching fellows from our Exercise Science's programme, some of whom are leading researchers in their field. 
Who is our Clinic for?
Clinical Exercise Physiologists can help manage many medical conditions. Our Health and Rehabilitation Clinic is suitable for anyone who suffers, or has suffered, from chronic disease. Our previous clients have found relief from a widerange of chronic conditions, including:
Arthritis
Cancer
Cerebral palsy
Diabetes
Heart disease
Hypertension
Lung disease
Multiple sclerosis
Neuromuscular disorders
Obesity
Peripheral vascular disease
Stroke
What is Clinical Exercise Physiology (CEP)?
CEP uses exercise as medicine to modify the impact of chronic disease. It is one of our country's recognised allied health professions, with New Zealand joining countries such as Australia, the United States, the United Kingdom and Canada in acknowledging the value that clinical exercise physiologists add to the wellbeing of those living with chronic disease. Many of New Zealand's leading registered clinical exercise physiologists are based at the University of Auckland's Health and Rehabilitation Clinic, located at new purpose-built facilities in Newmarket. Our staff teach and oversee our CEP postgraduate students, training them to be the next generation of CEP professionals.
For information about what to expect from our clinic see the Our Services Page. Please phone us, We look forward to hearing from you.