2020 Distinguished Graduate Award Recipients
Learn about the achievements of some of our Distinguished Graduate Award recipients.
Buddy programme a rewarding experience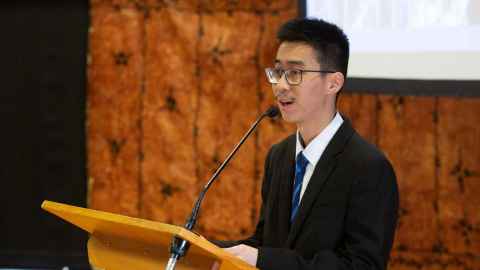 Who: Andy
Area of study: Master of Commerce in Global Management and Innovation
Co-curricular activity or voluntary role: AUSA International Buddy Volunteer and Class Representative
What did you enjoy about the Co-Curricular Recognition Programme?
I like the idea that the Co-Curricular Recognition Programme has many paths to pursue, which enable me to do what I love while giving impact to the student community. I am also being given an opportunity to step outside of my comfort zone, such as when I'm being trusted to be a game facilitator for the Orientation events. I also enjoy being able to meet lots of people and hear their unique stories.
What did you learn while completing the Distinguished Graduate Award?
After completing both the Community Engagement and Global Citizens paths, I become more reflective of how far I have grown during the programme. It is important being able to reflect on my experiences to understand better my strength and weaknesses and understand how it helped me to stay agile for the uncertainty in the future. This is very important as later when I was applying for a job, most questions during the interview were behavioural, asking about how I dealt with challenging situations. Through co-curricular activities, I was able to demonstrate how I gain specific skills such as leadership, teamwork and resilience.
Anzel takes up social enterprise challenge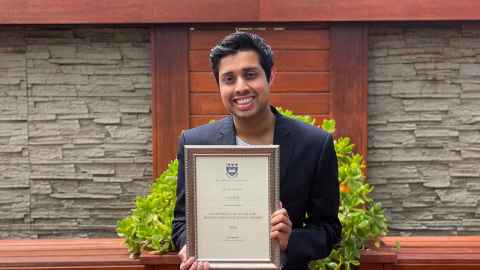 Who: Anzel Singh
Area of study: Postgraduate Diploma in Science: Biological Sciences
Co-curricular activity or voluntary role: Competed in the Social Enterprise Challenge, Producer Support to the Executive Producer at XLabs held by Circularity, participant in the Future Voices Forum, participant in Summer Lab.
What did you enjoy about the Co-curricular Recognition Programme?
I enjoyed being able to process and extract what I had gained from my experiences, looking at similar problems at very different levels, from the start-up solution route to working alongside established companies and then looking at it from the governmental perspective. The CCR programme allowed me to have that moment to reflect on how I best see myself contributing to the change I want to make in the world. It also made me think about how I had progressed. I remember going into Summer Lab with few expectations, just that it would be useful to learn about entrepreneurship and meet some new people. It was surprising that a year later, my co-founders and I would be asked to be guest speakers for the next cohort. This made me look back on the milestones Socius XR had reached and all the great people we met that made it possible, including our exceptional team.
What did you learn while completing the Distinguished Graduate Award?

Being a rounded person is more valuable than you think. I sometimes worried that my passions for the music industry, tech, entrepreneurship, and science didn't have much overlap and would have been much more straightforward following a more traditional path. I am so grateful I didn't cave into that ideology because every unique opportunity you take part in, even those that are not entirely relevant to your ambitions, gives you unique insight that is advantageous. I think the Distinguished Graduate Award recognises the importance of striving for more in your different areas of interest. Whether I'm in the studio, lab, or boardroom, I find that unexpectedly lessons that I learn from one industry do crossover to another. It's just a matter of knowing when and how to utilise those skill sets.
Meaningful connections gained as volunteer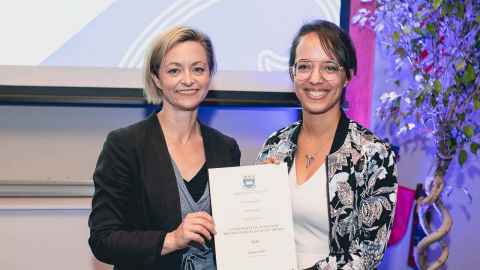 Who: Sarah Sneyd
Area of study: Bachelor of Health Sciences
Co-curricular activity or voluntary role: Ambulance Officer (First Responder) for St. John Ambulance. This involves volunteering at community events (such as Movies in the Park, or local concerts), and forming part of the ambulance crew on a regular 12-hour shift.

What did you enjoy about the Co-curricular Recognition Programme?
The Co-curricular Recognition Programme is great because it acknowledges students who take up activities outside of the classroom and recognises skills developed through volunteering. For me, I valued forming meaningful connections outside of University, getting hands-on clinical experience to complement my population health studies, and being formally recognised for my contributions inside and outside the classroom.

What did you learn while completing the Distinguished Graduate Award?
The importance of extra-curricular activities! Job seeking straight after my degree highlighted to me the importance employers place on skills outside of academia, and how well other skills can round out an application. The pathway to becoming a Distinguished Graduate meant I was prompted to think about the range of skills I had gained through volunteering, and how to confidently express these with examples - helpful for the job search but also for my own development. For any students out there considering volunteering alongside their study, I say go for it! Before I became involved with St. John, I considered volunteering at a number of places including Citizen's Advice Bureau, Auckland Emergency Response team, and a Women's Advocacy agency. It's amazing what organisations you end up discovering once you start looking, and when approached people are usually happy to help or refer.
Sarah shares her CCR Programme experience