Bridget is a Study Abroad student from Michigan Technological University, USA. She received an ISA University of Auckland Summer Research Programme scholarship in 2018.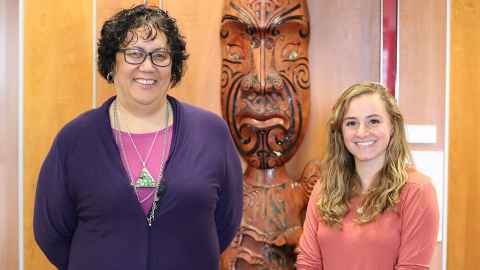 Research
"New Zealand is a place I have always wanted to visit, so when I heard about the study abroad research programme at the University of Auckland I knew I had to apply. I was excited the University had a programme that would let me pursue my communication, culture, and history interests all together.
"I am conducting research on the history of social and cultural movements in the 1970s and 1980s. My research project shows how the University has been a site for Māori activism, and focuses on events like He Taua (1979) and the protests that followed, which encouraged the University to build the Waipapa Marae on campus as a cultural community location. This subject combines culture and history in the best way, allowing me to understand why it is important to preserve different cultures in a changing society."
As a Communication, Culture, and Media major, my research entails hands-on learning about different cultures and the way people interact in society. Doing research abroad is one of the best ways to gain this experience, as it combines living in a different culture with doing historical research about it.
Culture
"It is incredible to see the influence of Māori culture around campus as well as at other locations I have travelled to in New Zealand. It is such a beautiful culture with a rich history. I have seen carvings and sculptures dedicated to Māori leaders at important sites, signs and phrases in the language, and other symbols of the culture all around New Zealand. It is so wonderful that the country embraces and respects Māori culture.
"The cultural diversity in Auckland is quite different to what I am used to, but I didn't experience major culture shock. When I first walked onto campus, I loved how much it felt like Michigan Tech. Both universities have similarities, making the transition to a new country a bit smoother. The University and the surrounding city with all its cultural diversity is what makes it such a beautiful place to live, and adds to the experience I was looking for when I came to New Zealand.
"My advice for future international students at the University of Auckland would be to embrace the whole experience. Make your research a priority, but also travel, experience Auckland and the rest of New Zealand. Overall, it is a balance. Love and appreciate what you are doing at the University of Auckland and you will have the experience of a lifetime!"
Winter Scholar
Bridget was selected as the 2018 Winter Scholar for our Department of History. Check out a couple of her posts highlighting her research and experience studying in Auckland on the Department Facebook page.