Christel is a medical student from the University of Tromsoe – The Arctic University of Norway.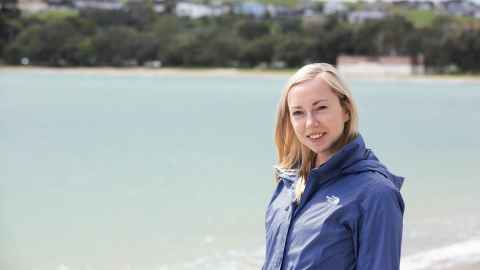 "I chose to study abroad at the University of Auckland because I wanted to go somewhere far away, yet beautiful. Safety was an important criterion, and it had to be an English speaking country. Education is also super important to me, so the University had to be highly ranked.
"I have been taking courses at the University as part of my medical degree back in Norway. The key difference between studying here and at home is the flexible approach to learning. I am used to attending lots of classes every weekday, so having lectures available online has made my life simpler, though I've had to be more self-motivated and disciplined. Nevertheless, this made it possible for me to explore heaps of New Zealand and of course I did have some 'normal' lectures and spent time at the Auckland City Hospital."
My Obstetrics and Gynaecology courses have been highly educational. I've also been able to improve my English skills, which I believe will make it easier for me to do an internship abroad or apply for English-speaking jobs in the future.
"I really enjoy how close and convenient everything is in Auckland. Not having to depend on public transportation is awesome – I can easily walk to the University and the city centre. The food is delicious and poke bowls have become a new favourite of mine. I am surprised at how much I've come to enjoy the big city life, growing up in a small town myself. The people are truly kind, helpful and happy! In addition, the cultural diversity at the University is incredible – not only have I made friends with Kiwis and Aussies, but lots of students from China and Singapore.
"If you're thinking of studying abroad at the University of Auckland, don't think twice, just do it! It's been a once in a lifetime  opportunity that I would never want to be without."