Juan, originally from Hawai'i, came from Dartmouth College in the US to discover more about Māori and Polynesian culture.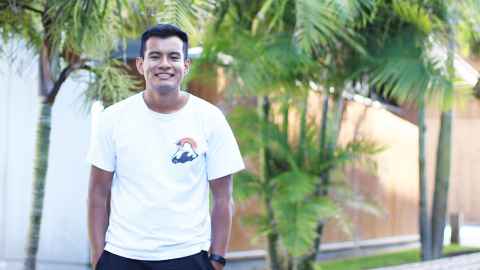 Culture
"I was born and raised in Hawai'i, so I've been surrounded by Polynesian culture my entire life. There are so many similarities between Hawaiian and Māori culture, which fascinates me because I knew very little about Māori people before I came to New Zealand. My biggest driving forces were to learn and discover Māori culture, and a desire to gain a more global perspective."
The courses I've take here have helped me gain context for the things I observe outside of class, and have been some of the most interesting and impactful courses I have taken in my time at university.  
"Taking Māori 130 and Anthro 346 allowed me to jump into the culture and understand more. They taught me the history of New Zealand and the Māori people, and also where they are currently and where they could go into the future."
Diversity
"My favourite thing about living in Auckland has been the diversity of food and people. When I thought of New Zealand prior to arriving here, my mind went to local Māori dishes with European influences. However, I was surprised to see Japanese, Chinese, Thai, Indian, American, and many other types of food, with an equally diverse population alongside them.
"Currently, I'm majoring in Engineering and Anthropology at Dartmouth. While my studies at the University of Auckland focused on the anthropological aspect of my career, being in New Zealand has given me a better perspective on the world. Experiencing Māori culture and the conflicts created by colonialism, both in the past and now, shows how similar countries can be even though oceans separate them. It brings into perspective that the issues we face in the States are issues that affect the whole world."