Kristen comes from the University of Delaware in the US, and is taking her first semester of college at the University of Auckland as part of the World Scholars Program.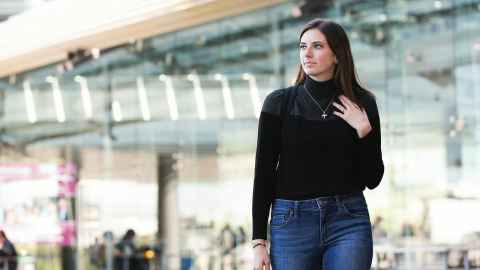 Possibility
"Kia ora! I am Kristen Reece, 18, from Pennsylvania. I am majoring in International Relations at the University of Delaware. I chose to study at the University of Auckland due to its strong academic profile, its incorporation of Māori studies into various programmes, and the friendly vibe on campus. Studying overseas develops interpersonal and professional skills for my future, and a newfound sense of independence and self-assurance will be helpful too."
I love studying for my first semester overseas, it's been really empowering. I went on exchange to Germany during high school and I missed the sense of possibility from being somewhere new. I want to regain a sense of academic and personal curiosity from this experience.
Culture
"I would love to work in the foreign service or for governmental intelligence organisations, where exposure to different cultures, ways of life and people is highly encouraged. My studies will help me create a strong foundation for a career in the field as I learn new languages and the cultures associated with them, explore historical and current world events, and the interdependence between education, healthcare, and the economy.
"My favourite course at the University of Auckland has been my Māori Anthropology class – unique to the campus and to New Zealand. I have learned more about Māori society and culture and its place in New Zealand."
Explore
"Life in Auckland is exciting because there is always a new area or event to explore. The cultural diversity at the University of Auckland is so unique! I love encountering people with different values, languages, and beliefs because it gives me the opportunity to learn more about the world and about how powerful education can be as a factor to unite people cross-culturally.
"My advice is simple – always stay curious about your surroundings! Your experience is just as much about the place as the people so don't be afraid to initiate a conversation, a coffee date, an excursion – you will not regret it. Travelling abroad takes you outside your comfort zone, and we grow most when we put ourselves in new situations, so I would encourage you to do just that."