Yui studies Law and Politics at the University of Tokyo in Japan.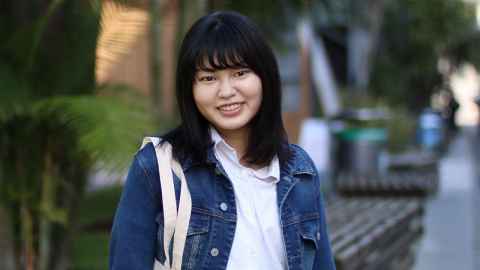 "The University of Auckland accepts overseas students from all over the world and provides many opportunities for international students to enjoy campus life. I felt that Tokyo, while exciting, was too busy for me and I wanted to go to a peaceful place full of nature. The University of Auckland environment seemed like the perfect choice.
"This is my first overseas stay beyond a month, and I was worried about communicating and studying in my non-native language. However, I overcame any linguistic barriers thanks to my friends and professors, and made new friends by joining clubs like the Study Abroad Students' Society (SASS), the Dessert Club, and the Photographic Society (Photosoc). The Academic English Writing course is very helpful for academic English beginners."
My piece of advice to future University of Auckland Study Abroad students: Believe in yourself and enjoy your brand new life!
"I took courses in Film Studies, Advertising, and Business, which will all be useful for my career after graduating from my home university. The Introduction to Wine Science course is great and is unique to New Zealand. I study Law at the University of Tokyo which is very logical, however wine science requires sensory skills and has a practical element which is really interesting.
"The atmosphere in New Zealand is quite different from that of my home country, where most non-Japanese people are considered "foreigners" and seem rare. People in New Zealand have their own cultural identities and the differences are celebrated. Through Study Abroad I've learned about different cultures and, from meeting students with different career plans, I've also become more interested in a career working with people who have diverse cultures and ideas."