International Research Programme
Study Abroad students will gain critical research skills as they work alongside academics in the Faculty of Arts to explore global issues, from refugee resettlement to indigenous identity.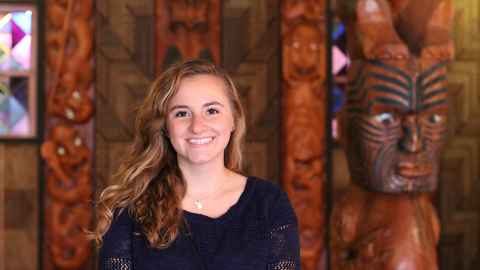 As a Communication, Culture, and Media major, my research entails hands-on learning about different cultures and the way people interact in society. Doing research abroad is one of the best ways to gain this experience, as it combines living in a different culture with doing historical research about it.
Programme information
This programme begins in June 2021 and has a flexible duration of six to eight weeks.
Research projects
Develop multidimensional research skills as you contribute to research projects that tackle complex, global issues:
Gender stereotypes in politics and news framing
Political marketing in the US and New Zealand
Citizenship, refugee resettlement and impermanent residency
Gender violence and contemporary crime narratives
Colonial empires and decolonisation
Māori identity and research methodologies
Sports, indigenous identity and cultural appropriation
Censorship, history and cultural heritage 
Course structure
Students will be engaged full-time from Monday to Friday (approximately 40 hours per week). Students will join a cohort of research students and work alongside Faculty of Arts academics on a variety of research tasks. 
Course assessment
Each research project will involve a variety of research tasks and assessment will involve a written report and analysis of research themes. 
Credit weighting
International students will receive 15 NZ points (approximately 3-5 US credits) on an official University of Auckland transcript.
Accommodation
Students will stay in student accommodation near campus, with a private bedroom (single), and shared living spaces. The University campus is located in the centre of Auckland city, close to shops, restaurants, entertainment, public transport and the harbour.
Entry requirements
This course is designed for students with two years undergraduate experience. A background that reflects the research topic is preferred, but not essential. 
Applicants need to have a strong academic record (equivalent to at least a University of Auckland B average).