International Research Programme
Gain critical research skills as you work alongside academics in the Faculty of Arts to explore global issues, from refugee resettlement to indigenous identity.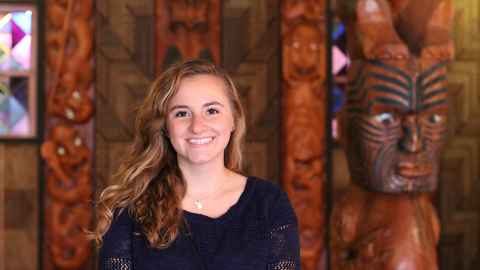 As a Communication, Culture, and Media major, my research entails hands-on learning about different cultures and the way people interact in society. Doing research abroad is one of the best ways to gain this experience, as it combines living in a different culture with doing historical research about it.
Programme information
This programme is returning in 2024.
Research projects
Develop multidimensional research skills as you contribute to research projects that tackle complex, global issues. This year's research projects include:
Superfluous Injury, Unnecessary Suffering and the Regulation of War
Citizenship, Impermanent Residency and the Politics of Populations on the Move
The Practice of Involuntary Civil Commitment of Individuals with Mental Illness: A Pacific Perspective
Mother of the ERA: A Political Biography of Martha W. Griffiths
Mapping Innovations in Indigenous, Feminist, and Culturally Appropriate Research Methodologies
Ngā Taonga o Wharawhara / The World of Māori Body Adornment: Understanding Adornment in Indigenous and Non-Indigenous Worlds
Researching the University of Auckland Art Collection
Censorship in Italian Cinema
Course structure
Students will join a cohort of research students and work alongside academics in the Faculty of Arts on a variety of research tasks. Students will be engaged full-time (approximately 40 hours per week).

Course assessment
Each research project will involve a variety of research tasks and assessment will involve a written report and analysis of research themes. 
Credit weighting
International students will receive 15 NZ points (approximately 3-5 US credits) on an official University of Auckland transcript.
How to apply
Entry criteria
This programme is designed for students who have completed two years of undergraduate study and have a strong academic record. A background that reflects the research topic is preferred, but not essential.
How to apply
Apply online for the Certificate of Proficiency for Overseas, and select Quarter Three 2021 as your start term (please refer to the application guide below). You will also need to send a personal statement (including 2-3 of the above research projects in your preference order) and a curriculum vitae to studyabroad@auckland.ac.nz. The deadline to apply for the next intake is 1 April 2024.