Postgraduate study in Biological Sciences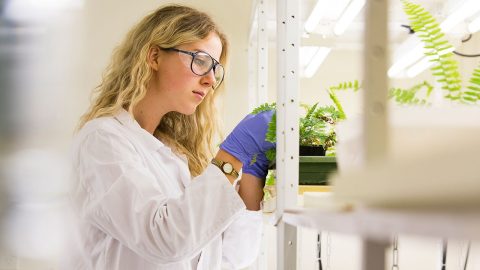 What can you study in Biological Sciences?
Postgraduate study in Biological Sciences focuses on research. Due to the School's strong links with industry, there may be opportunity to collaborate on research projects with other faculties, or companies such as AgResearch, the Department of Conservation and the Crown Research Institutes.
You may study a wide range of disciplines from biomedical, microbial and plant biotechnology to environmental, ecological and conservation science. Areas of research interests open to exploration include:
Biomedical and Applied Biology
Metabolism and Physiology, Applied Biochemistry, Genetics and Metagenomics, Cell Biology, Immunology, Stem Cell Biology, Neuroscience
Cellular, Molecular and Organismal Biology
Biochemistry, Plant Molecular Science, Microbiology, Genetics, Structural Biology, Mass Spectrometry
Ecology, Evolution and Behaviour
Ecology and Evolution, Behaviour, Conservation and Biosecurity, Ecophysiology, Systematics and Biodiversity

Structuring your postgraduate programme in Biological Sciences
Bachelor of Science (Honours) (BSc(Hons)) in Biological Sciences
15 points:
45 points from:
60 points from:
45 points from:
15 points from 700 courses in related subjects:
Master of Science (MSc) in Biological Sciences 120-point (one-year) research masters
Postgraduate Diploma in Science (PGDipSci) in Biological Sciences
90 points from:
30 points from 600 and 700 courses in related subjects:
Courses
Explore the postgraduate courses you can take for an Biological Sciences specialisation:
Where can postgraduate study in Biological Sciences take you?
Postgraduate study in the Biological Sciences prepares you for a career in biodiversity, biosecurity and biotechnology.
Jobs related to Biological Sciences include:
Biotechnologist
Higher education lecturer
Marine biologist
Microbiologist
Nanotechnologist
Nature conservation officer
Pharmacologist
Physician associate
Research scientist (life sciences)
Research scientist (medical)
Secondary school teacher
Soil scientist
Zoologist
Scholarships and awards
Each year we award scholarships and prizes to thousands of students.
Find out about the scholarships you may be eligible for, search available scholarships or begin an application by visiting Scholarships and awards.
Help and advice