Undergraduate study in Earth Sciences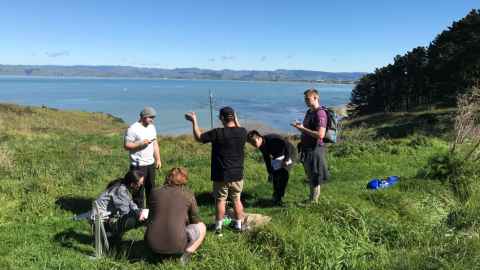 What can you study in Earth Sciences?
You can study Earth Sciences as a major in the Bachelor of Science (BSc).
Courses in the Earth Sciences major cover some of the following topics:
Earth's origin and evolution
Earth's surface and subsurface processes
Oil and gas exploration
Past life, climates and environments
Plate tectonics
Resource identification
Studying a Bachelor of Science majoring in Earth Sciences, from 2019
The Earth Sciences major explores the processes that have shaped Earth, from its deepest interior to its surface, and into neighbouring space. It investigates the complexity and interactions of Earth's systems, and addresses the impact of natural processes on society, and vice versa.
As part of your Earth Sciences major you'll complete the Earth Sciences capstone course, EARTHSCI 399, where you will carry out research or practice in Earth Sciences using the skills and knowledge you've gained throughout your studies.
From 2019 you can choose to keep your Earth Sciences major general, or you can follow either the Climate pathway, the Earth Surface Processes pathway, or the Geology pathway, in order to focus your studies further.
Climate: Explore the interactions of the atmosphere, ocean and land that create our climate and investigate the evolution of climate over time.
Earth Surface Processes: Examine how coasts, rivers and hillslopes are shaped by surface processes and influenced by the underlying geology.
Geology: Explore the solid Earth and the processes that have shaped its evolution, spanning the early solar system and origins of life, plate tectonics, volcanoes, earthquakes and natural resources.
*subject to approval for 2019.
Structuring your programme in Earth Sciences
Where can undergraduate study in Earth Sciences take you?
Study in Earth Sciences offers a wide and exciting variety of career paths. Trained Earth Scientists find work locally or internationally, working for geological and exploration companies, engineering companies, environmental consultancies, central government and local authorities. You could find yourself responsible for monitoring hazards, such as volcanic activity, landslips or earthquakes. You could even use your data analysis training to move into IT industries.
Jobs related to Earth Sciences
Geophysicist
Hydrologist
Marine geologist
Paleontologist
Petroleum geologist
Seismologist
Soil scientist
Space scientist
Volcanologist
Further study options
Help and advice
For further information and advice, please contact the Science Student Centre.
Science Student Centre
Level G, Room G 20
(beside the entrance to the Large Chemistry Lecture Theatre)
Building 301
23 Symonds Street
Auckland 1010
Phone: +64 9 923 7020
Email: scifac@auckland.ac.nz
Web: www.env.auckland.ac.nz