Undergraduate study in Environmental Science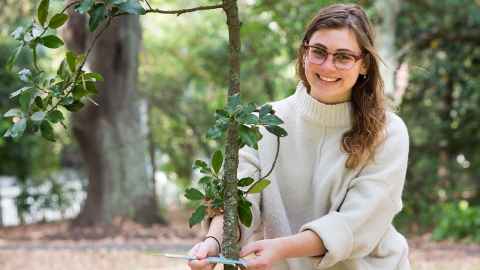 What can you study in Environmental Science?
You can study Environmental Science as a major in the Bachelor of Science.
In the Environmental Science major you'll study a range of topics, including:
The biophysical processes underlying environmental problems
Human interactions with environmental systems
Modelling and analysis of environmental information
Environmental decision making
Communication of environmental issues and risk
Structuring your undergraduate programme in Environmental Science
If you began your degree prior to 2019 we recommend you seek advice to make sure you are taking the correct courses.
Contact: studentinfo@auckland.ac.nz

Where can undergraduate study in Environmental Science take you?
The future looks bright for graduate careers in environmental science, with opportunities expanding steadily. Our graduates have been employed in a very diverse range of careers.
Jobs related to Environmental Science
Conservation officer
Corporate environment manager
Environmental consultant
Environmental engineer
Health and safety professional
Pest manager
Policy analyst
Research scientist
Scientific officer
Waste management analyst
Wildlife manager
Further study options
Scholarships and awards
Each year we award scholarships and prizes to thousands of students.
Find out about the scholarships you may be eligible for, search available scholarships or begin an application by visiting Scholarships and awards.
Help and advice
Student Hubs
Visit your hubs for help and advice on any aspect of your studies and life at University.
The Student Hubs are your physical gateway to Waipapa Taumata Rau | the University of Auckland.
The Student Hubs services are available seven days a week at the City, Grafton, Epsom and Tai Tonga campuses and six days a week at Tai Tokerau, with friendly staff available to provide you with advice on any aspect of your studies and life at the University.