Doctoral study in Perinatal Science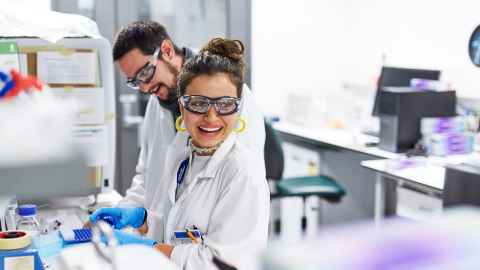 Why study with us?
The Liggins Institute is one of the world's leading centres for research on fetal and child health, nutrition, development and the developmental origins of adult disease, epigenetics and translational science.
Study with us and you'll help translate scientific discoveries into therapies that help people manage major health problems of the 21st century.
Much of the Institute's research builds on ways to prevent preterm birth and improve the life-long health of babies born prematurely or with altered growth before birth.
Many of our academic staff are practising clinicians with expertise ranging from paediatrics to physiology. Others are internationally-recognised experts in their field.
As a doctoral student at the Liggins Institute you'll gain an internationally recognised qualification, excellent research skills and the knowledge to work in an important area of medical research that has the potential to change the long-term health outcomes of generations to come.
Research opportunities
When you join us for your doctorate in perinatal science, you'll join a high-calibre research community and have the opportunity to publish papers, attend international conferences and develop your network in academia and industry.

We welcome research proposals in topics relating to our four key research themes:

Healthy mothers, healthy babies
Pregnancy complications
Preterm birth and altered fetal growth
Maternal, fetal and neonatal treatments

Determinants of a healthy life
Developmental epigenetics
Developmental origins of health and disease
Nutrition for life-long health
Newborn nutrition
Maternal nutrition
Nutrition for healthy ageing
Research to reality
This area of research is about translating our findings into practice, whether in the healthcare sector or in the community, to ensure our research has impact on outcomes.
Our people
Undertake your PhD with the Liggins Institute and you'll benefit from exceptional standards of support and supervision from internationally recognised researchers.
Distinguished Professor Jane Harding
Supervisor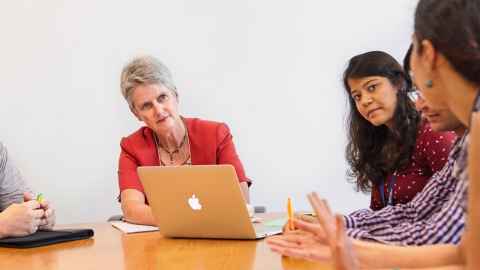 Professor Harding obtained her medical degree at The University of Auckland before training in fetal physiology on a Rhodes Scholarship and completing her Doctor of Philosophy at the University of Oxford. After training as a paediatrician in New Zealand, she completed her FRACP in neonatology. Her postdoctoral training was as a Fogarty Fellow at the University of California at San Francisco.
Professor Harding was appointed to the Faculty of Medical and Health Science in 1989 and was a founding director of the Liggins Institute. She was Deputy Vice-Chancellor (Research) for The University of Auckland from 2008-2015.
Professor Harding's research activities include clinical as well as basic physiological studies. Her main interests concern the interaction of nutrients and growth factors in the regulation of growth before and after birth, perinatal glucose regulation and the long-term consequences of treatments given around the time of birth.

Research interests: fetal and neonatal care; growth, development and fetal physiology; nutrition and growth factors; clinical trials; long-term follow-up
Find out more: Distinguished Professor Jane Harding
Other supervisors in this subject:
Professor Frank Bloomfield
Research interests: neonatal paediatrics; complications of preterm birth; fetal growth and development (particularly endocrine development); neonatal nutrition and growth and the life-long consequences of altered growth; fetal growth restriction
Professor Mark Vickers
Research interests: the association between poor maternal nutrition and the development of obesity and type 2 diabetes, as well as therapies aimed at reversing the metabolic disturbances that result from a suboptimal early life environment
Associate Professor Katie Groom
Research interests: clinical trials of therapies and interventions for the prevention and treatment of the major complications of pregnancy, including preterm birth, fetal growth restriction and preeclampsia
Past research topics
"Long-term neurodevelopmental and metabolic consequences of neonatal hyperglycaemia and early life protein intake", supervised by Distinguished Professor Jane Harding
"Interventions Pre-conception and During Pregnancy to Improve Glucose Tolerance and Prevent Gestational Diabetes", supervised by Professor Mark Vickers and Dr Clare Reynolds
"Metabolic Biomarkers in the prediction of spontaneous pre-term birth", supervised by Professor Norman Wong and Professor Steven Cahan"
Exploring the role of maternal and infant determinants on glucocorticoid composition of human milk", supervised by Professor David Cameron-Smith
"The association between vitamin D levels in early pregnancy and the development of gestational diabetes", supervised by Professor Philip Baker and Associate Professor Tim Kenealy
Contact us
Do you want to chat further about your studies? Contact us using the details below.
Telephone
+64 9 923 6229
Email