Jarrah is a recipient of the University of Auckland Doctoral Scholarship, and a PhD candidate at the Auckland Bioengineering Institute.
After completing a Summer Research Scholarship which sparked an interest in further postgraduate study, Jarrah is now studying towards a PhD in Bioengineering.
Deciding where to study
"I chose the University of Auckland due to its world-leading instrumentation for the study of cardiac muscle, along with the financial security of doctoral scholarship. As the scholarship provides funding for a project that you propose, it has enabled me to partake in a project that truly resonates with me.
The high academic ranking and distinguished reputation of the University was certainly a consideration in my decision to come here for my undergraduate degree. At the time it was the only New Zealand university that offered biomedical engineering and even now, the degree it offers is unparalleled in the country."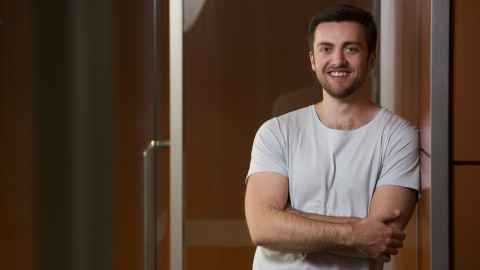 Making friends in the faculty
"Studying bioengineering at the University is something special - it's a relatively small group which means that you get to know everyone pretty quickly. ABI has a great social committee which organises events catering to all types of people. I've made so many great friends through these events that I would have otherwise never met."
"I enjoy the independence of postgraduate study. Having a major project to manager is a great challenge that is very exciting to me."
Moving to Auckland
"I am originally from the Isle of Wight in the UK. I moved to Nelson for high school, and to Auckland for university. This was my first experience living in a big city and my first realisation was that there is always something going on! Also, if the hustle and bustle of city life gets too much, there are so many opportunities for getting out into nature – Rangitoto is like another planet and it's only a ferry ride from the city centre.
"It's been said to the point of cliché but Auckland truly is a melting-pot for so many different cultures but it's because it's the truth. International festivals happen throughout the year all over the city. There's something for everyone."
Meet more students
Our doctoral students come from diverse educational and professional backgrounds. Learn about what brought them to study at the University of Auckland.