Inside this issue of UniNews: Student leaders Alan Shaker and Hala Barakat, Natalie Gauld, Felicity Goodyear-Smith, Jeremy Salmond and Stuart McCutcheon obituaries, John Morgan opinion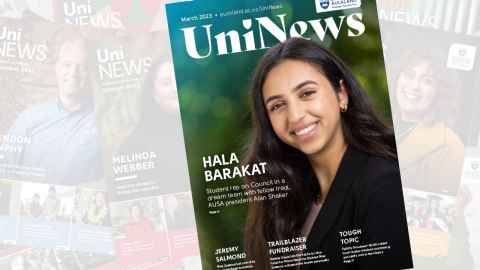 Cover story
Like AUSA president Alan Shaker, Hala Barakat has Iraqi heritage and says it has a big influence on the path she's taking.

Features
New AUSA president Alan Shaker knows the challenges students face in 2023 getting to campus. But he says their university experience can be better if they do.

A pharmacy change-maker is raising awareness and funds for motor neurone disease and having as much fun as she can along the way.

A new book by Professor Felicity Goodyear-Smith explores the history of abortion in Aotearoa New Zealand.
With Jeremy Salmond's death in January, New Zealand lost one of its best heritage architects.
Opinion: There are plenty of lessons to be learned for adults after recent severe weather events, but also to share with children in the classroom.

All these items on interactive PDF 
In the News (pg 2 of PDF)
Professor Jennifer Curtin
Dr Stephen Hoadley
Professor Peter Shepherd
Professor Michael Witbrock
Dr Heloise Stevance and Professor Jan Eldridge
Associate Professor Martin Brook
Obituary to Emeritus Professor Stuart McCutcheon Pg 3
'Good to Know' stories
Rainbow Pride pg 4
New role for Frank Bloomfield pg 4
Sabrina Yardley and Joshua Yates pg 4
Eileen Joy pg 4
New marine research boat pg 5
Māori views on capitalism pg 5

Arts and Culture
Felicity Goodyear-Smith and Jeremy Salmond - online links at top

BOOKS
Face to the Sky
Michele Leggott, AUP, $35, from 13 April

Fierce Hope, Youth Activism in Aotearoa
Carisa Showden, Karen Nairn, Judith Sligo, Kyle Matthews, Joanna Kidman Bridget Williams Books, $40
Barefoot
Ruth Bayley, Eden Street Press, $30
7 Dimensions: Children's Emotional Well-being
Jean Annan, Mary Egan Publishing, $39
If you have a book to tell people about, email: uninews@auckland.ac.nz