Here you will find accommodation options and application information for school leaver students undertaking their first year of tertiary studies at the University of Auckland.
If you are a New Zealand high school student, your application will be guaranteed an accommodation offer when 'First Offers' are made in October, provided you have applied between 1 August and 30 September and have met our offer criteria.
Definition of a school leaver applicant
You are completing/have completed in 2023, or have previously completed in 2022, your last year at a New Zealand high school (or international equivalent) and are entering University for the first time in 2024.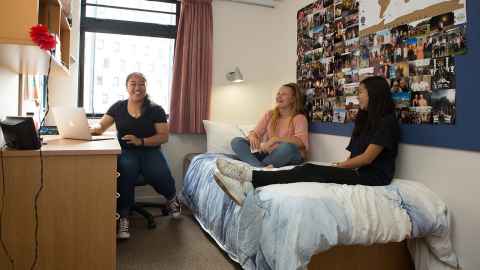 Where can you stay?
Our first year residences offer you a fantastic student lifestyle with an organised social programme of events as well as academic and pastoral support. You will have the chance to build lifelong friendships with people from all over New Zealand and the world.
The communities that make up our halls of residence provide a lasting impression with students, creating memories that last a lifetime.
You can apply for a place in any of the following:
In Grafton Hall, O'Rorke Hall, Waipārūrū Hall and University Hall - Towers all of your meals are included in your fees, and served daily in the Hall dining room.
Grafton Student Flats, which forms part of the Grafton Hall community, is a self-catered residence that our first year residents can opt into a partially or fully catered meal plan at an additional weekly rate.  
*large single rooms are limited. If your application for a large single is not successful, you will be automatically considered for a standard single in the same residence. 
Disability options
Grafton Hall, O'Rorke Hall and University Hall - Towers provide suitable facilities, including wheelchair access and specially fitted bathrooms. Guide dogs can also be accommodated at O'Rorke Hall.
Note: All three residences involve a climb uphill from campus. Please ensure you provide all relevant details of your disability on your application form so our staff can meet your needs.
The University of Auckland Student Disability Services has useful information about the University support available to you.
Residence comparison chart
The chart below lists the residences available to school leaver applicants only.
School-leaver and first-year scholarships
If you are a new student here at the University of Auckland, you may be eligible for a scholarship - regardless of your background or where you live. Guaranteed accommodation in a hall of residence will be offered to students who are awarded one of these scholarships — even if you currently live in Auckland. Find out more about our School Leaver and First-Year Scholarships.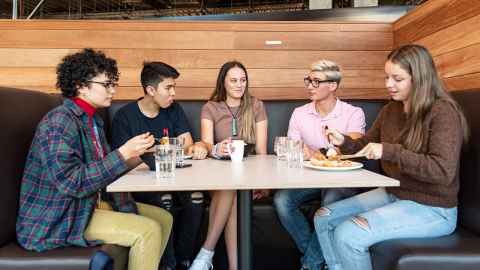 Before you begin your application
You should have the following information available.
Have decided which hall of residence you wish to apply for (you can only select one preference).
You'll need your most recent academic results (Year 12 NCEA, IB or CIE, or Year 13 if you have already left school).
NSN (National Student Number ) if you have one.
Your proposed course of study at the University of Auckland.
Details for your emergency contact (name, address, phone number/s and email address).
Note: In addition to the online application, school leaver applicants (who attended a NZ high school in your final year) are also required to provide a CCRF (Common Confidential Reference Form) from their school. These are usually completed by a teacher, careers advisor or principal, and forwarded to us directly by the school.
To have your application considered for a first offer, you must ensure your school has sent us your completed CCRF no later than September 15, 2023.
Request a CCRF to be completed by your school (if you haven't already done so).
We don't require references from school leaver applicants who completed their final year of high school overseas.
About you - application questions
The following five questions are asked on the 'About you' section of the School Leaver application. As there is an inactivity timeout period on the application form, we suggest that you consider writing your answers to the below questions in a word document so you can copy and paste your answers across.
Note:  Answers for each question can be no longer than 1500 characters – approximately 250 words.
Tell us about yourself. How do you interact with new people? Are you sociable, or do you prefer to spend time on your own? What is your study/sleep pattern (i.e. do you like to stay up late and study)?
Why have you chosen the course of study you plan to undertake at the University of Auckland? What are your aspirations based on your proposed study?
What are your expectations of living in a hall of residence? Why should you be selected to live in this hall? How do you feel about living away from home? What will you be able to contribute to the hall you live in?
What sports, recreational or community/volunteer activities are you involved in? Have you had your 5 minutes of fame – received any awards, made headlines?
Is there any other information about you, you may want us to be aware of, that will help us place you in accommodation that is appropriate to you?