Sport and Recreation Interim Facility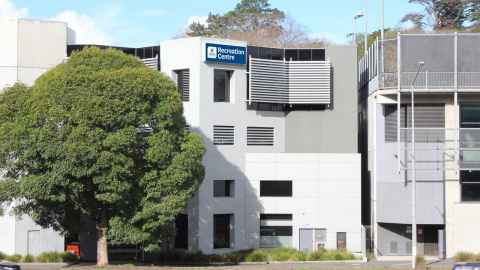 January 2020
The new Recreation Centre will open with a 'soft-launch' on Tuesday 28 January. The core of the new centre will be operational, however some services may not be available. This is a great opportunity for gym members to come along and check out our facilities ahead of our grand opening at the start of Semester One.
We would love to hear your feedback during these first few weeks so we can sort any issues and deliver the best possible recreation experience for all members. Please get in touch by sending us an email at recadmin@auckland.ac.nz.
November 2019
Our interim fitness facility is starting to take shape as 70 Stanley Street is being transformed into our new fitness centre. This includes new bathrooms, an open floor concept and some new equipment! 
This facility will open prior to Semester One, 2020, with the move commencing mid-January. This will see our current facility close for three days, Wednesday 8 – Friday 10 January. From Saturday 11 - Sunday 26 January, our main gym on level 1 and 2 will be closed and we will be operating out of a pop-up mini gym in our group fitness studio and table tennis area. Our group fitness classes will still be running, however they will be held in the dance studio and sports hall.
Sorry in advance for any inconvenience this may bring.  
October 2019
Work has started to convert an existing warehouse at 70 Stanley Street into the interim fitness centre, which will open prior to Semester One, 2020.
We are excited to bring to you a newly renovated facility with new bathrooms and an open concept floor plan complete with the investment of a few pieces of new equipment.
The facility will be spread across two levels. The ground floor will accommodate a majority of the fitness centre, as well as the main Group Fitness Studio and Bike Studio. Located upstairs is our Mind Body Studio and low impact fitness space, as well as an adjoining outdoor balcony.
Over the interim period we will not have a dedicated dance studio, climbing wall or squash court available.
Alongside the progress at Stanley Street, we have worked closely with a number of consultants to confirm the design and construction of the interim sports courts. These will be 960SqM (similar size to our current Symonds Street facility) and built on the currently vacant sections on Wynyard Street. Work will commence on the courts early 2020, with their planned opening by Semester Two, 2020.
The existing courts on Symonds Street will continue to operate through to the end of Semester One, 2020, while the interim ones are being built.
We will be moving the fitness centre equipment down to Stanley Street commencing in January 2020. Some of the fitness spaces will be closed off during the move for a period of approximately two weeks. We will provide more details on these expected interruptions as the project continues forward.
August 2019
We are excited to announce that the Recreation Centre is moving to a freshly renovated facility located at 70 Stanley Street, while our new Recreation and Wellness Centre is under construction on our current site, 17 Symonds Street.
This modernised space is less than a 10 minute walk away from our current Recreation Centre and just a 5 minute walk from OGGB!
Spread across three levels, this space will aim to offer similar facilities to our current Recreation Centre in terms of size, equipment and services offered. The main gym will be located on the ground floor (Level 0) and will consists of a large open space with dedicated cardio, weights and functional zones, two studios and brand new bathroom facilities. Level 1 contains private car parking, and level 2 is home to administration offices, an additional mind body studio and a low impact circuit space with balcony access. 
This interim facility is scheduled to be up and running in Semester One, 2020, while the sports hall remains at our current Symonds Street location until Semester Two, 2020. We are currently working on a solution for our interim sports facility and aim to offer a court that is an equivalent size to our current one, at another location on campus. More information on this will be released soon.
Timeline