If you need help with FlexIT, please call Student Contact and Support on 0800 61 62 63. 
FlexIT Troubleshooting
What to check first
Restart your computer - it's quick and it does fix issues

Make sure you're using the latest VMware Horizon client - there are regular speed improvements - we have also seen this fix a lot of issues. 
Try logging in to FlexIT using a browser in "incognito" mode. If this works then you should clear your cookies

Try accessing FlexIT from another device. A good test is trying a phone using mobile data (rather than Wi-Fi) to see if the issue is your device or your wireless router.
Check if other applications in FlexIT are showing the same behaviour, or is it just this application? 
If you have tried all the steps above and still have an issue, then log a call with either the Student Contact Centre (students) or Staff Service Centre (staff).

Opening and saving files in FlexIT is slow 
If you are finding that the performance of applications in FlexIT is slow and you are using files on your local computer, then you need to copy it to the University home drive and access it from there. To copy it to the University home drive follow instructions here.
If you get an error 500 message
Please clear your browser cache.
Problems with an application in FlexIT
If you are having a new problem with an application that previously worked on FlexIT it is important that you let us know what FlexIT server you are connecting to when the problem occurred.
To do this:
1. In FlexIT open Horizon Performance
2. When it opens, note down the Machine name and put this in any call you log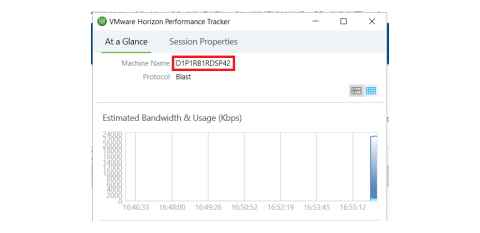 ArcMap
If you are having issues getting ArcMap to run correctly, please follow these instructions:
Running FlexIT from Linux
When accessing FlexIT portal https://flexit.auckland.ac.nz/ with a
Web Browser and clicking on an item in the Catalog it may not startup Horizon
Client to access the resource.  This is likely due to a missing MIME entry, ie so the Web Browser doesn't know to start Horizon Client although it has received an instruction to do so.
The following command, executed within a terminal window, may help:
xdg-mime default vmware-view.desktop x-scheme-handler/vmware-view
FAQ
Can I use FlexIT without an internet connection?
No - you require an internet connection.
What do I do if I cannot download the Horizon client from the country I am in?
You can also download the Horizon client from the University website here: FlexIT Horizon Clients

Where do I store files I work on in FlexIT?
You can either store your files on H: (which is the same as H: on-campus),  or also save them to any drives that are on your local computer (including USB drives). More information. If you are finding performance issues then you should save the files on H: rather than using them from your local drive.
How do I print using FlexIT?
FlexIT can print to any of the University printers. Select a Follow-Me black and white or colour printer and use your Campus Card to release the print job on any printer. You can also select any printer that is on your local computer.
Why is my course not listed, even though the applications are on FlexIT?
We have published the information provided by the Faculties relating to applications taught in each course. To have the list updated, please contact your Course Co-ordinator.
How do I get an application added to FlexIT?
Talk with your Course Co-ordinator, who can raise a request here: Request an application on FlexIT