We've already introduced you to a few resources to help you succeed academically, but we've got your back in other areas that may affect your study, too.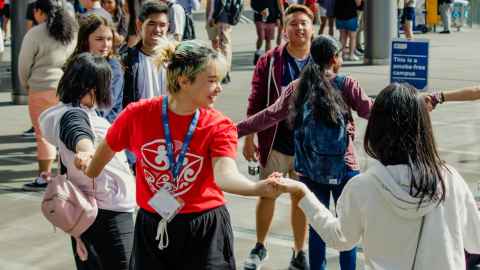 You know your Student Hubs can assist with academic questions, but did you know staff can also answer general questions about being at University, help you navigate uni life, and direct you towards relevant support services? The Student Hubs services are available seven days a week at the City, Grafton, Epsom and Tai Tonga campuses and six days a week at Tai Tokerau, with friendly staff available to provide you with advice on any aspect of your studies and life at the University.
Similarly, the Tuākana programme can provide career development advice, scholarship and funding opportunities and other kinds of personal support to our Māori and Pacific students.
Consider reaching out to your students' association. AUSA Advocacy is a free and confidential service which is completely independent from the University. Seek them out for advice about your rights, University procedures, general legal advice and much more.
Get in touch with your UniGuide! You may feel like you don't need them now that you can find your way around campus and have made some friends, but your UniGuide will be there for you throughout semester if you need some guidance from a friendly face.
If you're an international student, you may already be familiar with AUSA Buddies– these are other international students who have been around UoA for a while and can help you get settled in Auckland.
Halls of Residence students – you can benefit from study sessions with your PASS mentors. These interactive weekly sessions are facilitated by senior students and are supplementary to lectures, tutorials and labs.
There is also support for all different beliefs and spiritual values. You can join a religious club, either to just socialise and make friends or deepen your understanding of whatever is sacred to you, explore ideas and values with a member of the Maclaurin chaplaincy team or attend regular Muslim prayers.
There is loads more help available at the University of Auckland – check out our Student Support webpage for more ideas.