Undergraduate study in Anthropological Science
What can you study in Anthropological Science?
You can study Anthropological Science as a major in the Bachelor of Science.
Anthropological Science bridges the natural sciences, human sciences and humanities, allowing you to develop a deep awareness of cultural and biological diversity. This major offers you the chance to hone scientific skills and learn new technologies that will support research in bio-anthropology and archaeology.
Graduates gain an internationally accepted qualification, excellent research skills and the knowledge to work within some of the world's most rapidly advancing scientific fields.
If you began your degree prior to 2019 we recommend you seek advice to make sure you are taking the correct courses. Contact the Science Student Centre at scifac@auckland.ac.nz.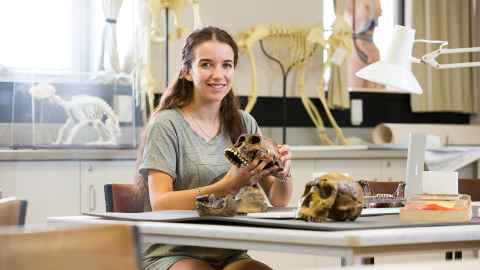 Where can undergraduate study in Anthropological Science take you?
This programme will integrate studies in Archaeology and Biological Anthropology with science disciplines to produce graduates who are able to work or undertake graduate study in the fields which require dual understandings.
Jobs related to Anthropological Science
Archaeological consultancy for organisations such as Heritage NZ
Health and nutrition research
Work in museums
Environmental consultancy and mining
Further study options
Scholarships and awards
Each year we award scholarships and prizes to thousands of students.
Find out about the scholarships you may be eligible for, search available scholarships or begin an application by visiting Scholarships and awards.
Help and advice
For further information and advice, please contact the Science Student Centre.
Science Student Centre
Level G, Room G 20
(Beside the entrance to the Large Chemistry Lecture Theatre)
Building 301
23 Symonds Street
Auckland 1010
Phone: +64 9 923 7020
Email: scifac@auckland.ac.nz
Web: www.science.auckland.ac.nz