Develop knowledge and capabilities in Business Management and enhance your professional skills, managerial skills, and personal networks.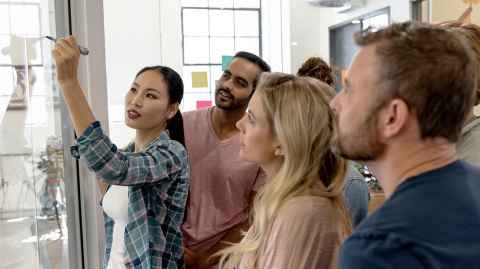 Subject overview
Business Management is a practitioner-focused programme providing you with the opportunity to:
Develop knowledge and capabilities from a choice of two specialisation areas: Digital Marketing or Strategic Management

Develop analytical and solution-seeking skills to address organisational challenges

Enhance your professional skills, managerial skills, and personal networks
Studying Business Management will provide you with the capabilities to be successful in enhancing your career within your chosen business management specialisation.
Join the community of learners at New Zealand's top university and leading business school. Build your social and intellectual capital while being supported to succeed by a Faculty renowned for research excellence and innovative teaching.

What can you study in Business Management?
Graduates will develop skills, knowledge and understanding in a critical mix of practical and theoretical areas of study related to their business specialisation: Digital Marketing, Strategic Management or Human Resource Management (launching in 2022) and be well equipped to become practitioners in their specialist fields.
Courses will be taught using an interactive and experientially-based pedagogy. Delivery will be blended with workshops providing opportunities for students to apply theoretical content and applied research specific cases, problems and simulations, and develop professional and transferable skills.
The different pedagogical methods will ensure a high level of student engagement and opportunities for the participants to develop disciplinary knowledge, think critically, develop skills to work effectively in teams, and demonstrate solution seeking behaviours. The interactive delivery will be led by lecturers and practitioners with current or recent business and industry experience.

Explore your study options in Business Management