Communication and Technology
Explore the interplay between humans, culture and technology and gain a practical and creative approach to digital communication.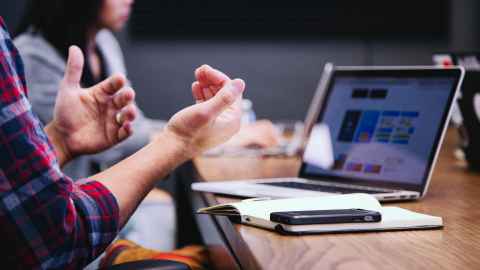 Subject overview
The Bachelor of Communication and Technology prepares students for a world in which more and more of our personal, social, and professional lives depend on digital technologies. This major is unique in its combination of skills and perspectives. It offers opportunities for students to develop technical expertise and a nuanced understanding of the political, social, and ethical questions raised by the exciting yet tumultuous innovations that define our time.
You will examine methods of communication within a digital and primarily visual environment, exploring different platforms and developing communication skills across various digital media, from podcasts to gifs. You will also consider the future of digital communication technology, exploring equitable, just and accessible design and Indigenous perspectives on technology and data.

What you gain from the Communication and Technology major
Alongside core Communication courses in which we develop creative digital projects and learn the cultural and historical context needed to analyse the complex problems we face in our techno-social world, students also have the opportunity to study courses in either Computer Science or Statistics, so they understand how communication technologies work 'under the hood'.
We believe this unique combination of technical and cultural skills is critical across many different industries as we learn new ways — both wonderful and dangerous — that data can be used to shape what we believe and what we eat, who we fall in love with and who we vote for, and where we go next.
After finishing this degree, you will have both highly sought-after technical expertise and the cultural knowledge that will help you to collaborate with and work for the diverse communities found across the industry, government, and nonprofit sectors. 
Some possible careers include:
Structuring your major in Communication and Technology
Communication and Technology is available as a major in the Bachelor of Communication. You will need to pass at least 135 points (nine courses) towards the major.
You must pass the following courses as part of your major:
Three courses: COMMS 103, 208, 316
One course from: COMPSCI 101, STATS 101
Two courses from: COMPSCI 130, 230, STATS 201, 220, 240
Three courses from: COMMS 317, 318, COMPSCI 345, MEDIA 328, SOCIOL 300, STATS 302, 330

Courses
Explore the undergraduate courses you can take. Students normally take Stage I courses in their first year, Stage II in their second and Stage III in their third.
Help and advice
Our friendly staff will provide you with advice on planning your degree and enrolling in your courses at Student Hubs.
If you would like to find out more about studying Communication and Social Change, you can contact our Undergraduate Adviser.
Learn more about BC career paths and opportunities online. See Graduate Careers.
Explore our industry placements and Stage III internship course.

Discussing the Bachelor of Communication
Associate Professor Luke Goode and Dr Bingjuan Xiong talk about the BC and what students can look forward to studying.

Explore your study options in Communication and Technology