Communication in Leadership
Explore what it means to communicate effectively and inclusively and gain knowledge and practice for leadership roles.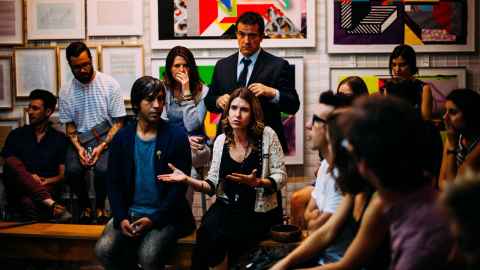 Subject overview
The Communication in Leadership major looks at the vital role of communication in effective and ethical leadership. The major explores communication within leadership positions across a broad range of organisations and fields, including business, government, politics, culture, community and non-profit organisations.
You will learn about theories of leadership communication, analyse real-world case studies, and develop valuable practical and professional skills essential for leadership roles, including conflict resolution, negotiation and listening, and learn how to develop coherent communication strategies.

What you gain from studying the Communication and Leadership major
Communication is a pivotal component of good leadership, and strong communication skills are highly sought-after in today's employment market. The need for effective, empathetic and inclusive leadership in today's society is more significant than ever. This major will equip you with the skills necessary to become an effective communicator who can succeed in leadership roles by bringing people together to address challenges, develop creative solutions, and work towards common goals.
The skills developed, and the themes studied in this major include:
communication styles
inclusivity
ethical persuasion
teamwork and collaboration
negotiation and conflict resolution
leading through change
crisis communications
digital leadership
developing communication strategies
Some possible careers include:
Structuring your major in Communication in Leadership
Communication and Social Change is a major in the Bachelor of Communication. You will need to pass at least 135 points (nine courses) towards the major.
You must pass the following courses as part of your major:
All three courses: COMMS 105, 214, 319
One course from: COMMS 104, GENDER 101
Two courses from: COMMS 200, 213, INNOVENT 203, MEDIA 238, MGMT 211 OR 223
Three courses from: COMMS 314, MĀORI 335, MEDIA 338, MGMT 304 OR 314, POLITICS 345
Courses
Explore the undergraduate courses you can take. Students normally take Stage I courses in their first year, Stage II in their second and Stage III in their third.
Help and advice
Our friendly staff will provide you with advice on planning your degree and enrolling in your courses at Student Hubs.
If you would like to find out more about studying Communication and Social Change, you can contact our Undergraduate Adviser.
Learn more about BC career paths and opportunities online. See Graduate Careers.
Explore our industry placements and Stage III internship course.
Explore your study options in Communication in Leadership
Associate Professor Luke Goode and Dr Bingjuan Xiong talk about the BC and what students can look forward to studying.
Discussing the Bachelor of Communication