Halls of residence general information
The communities that make up our halls of residence provide a lasting impression with students, with many creating memories and relationships that last a lifetime.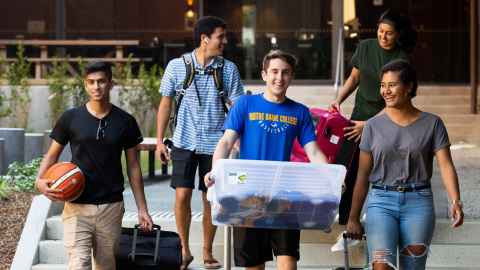 Our accommodation teams understand that transitioning from high school to University can be an overwhelming experience, which is why all of our first-year halls offer a safe and supportive environment to guide you through your first year.
In addition to social and recreational events organised throughout the year, our teams ensure that academic mentoring and informal study groups are available to encourage and engage our residents, and align them for personal and academic success.
Where to start
Halls of residence tours
For those wishing to view our Halls of Residence please contact our student support team, and let us know which residence you wish to view and we will confirm whether your requested date and time is possible.
Tours can be requested for Wednesdays and Fridays at 1pm, 1.30pm, 2pm, 2.30pm, 3pm and 3.30pm. To enquire about the possibility of booking a tour outside of these times contact our Student Support Team. Tours can take about 30 minutes. There is no guest parking at any of the residences.
Please note: We do not offer tours on weekends or during university exams periods.
Semester Two: out of respect for our current residents during their study and exam period, tours will not be available at all residences from Tuesday 24 October – Monday 13 November.
COVID-19 Update regarding Hall tours
For the safety of our accommodation communities and adhering to ministry of health guidelines and advice, the following restrictions are in place regarding tours of our university accommodation:
Under Red: No tours are permitted.
Under Orange: Tours are available and must be booked in advance. Face masks are required.
Under Green: Tours are available as normal.