Halls of residence general information
The communities that make up our halls of residence provide a lasting impression with students, with many creating memories and relationships that last a lifetime.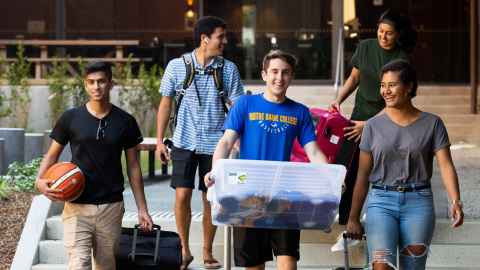 Our accommodation teams understand that transitioning from high school to University can be an overwhelming experience, which is why all of our first-year halls offer a safe and supportive environment to guide you through your first year.
In addition to social and recreational events organised throughout the year, our teams ensure that academic mentoring and informal study groups are available to encourage and engage our residents, and align them for personal and academic success.
Where to start
Halls of residence tours
For those wishing to view our Halls of Residence please email accom@auckland.ac.nz to receive the Tour Booking Form link. Once you have complete this we will confirm whether your requested date and time is possible.
Tours can be requested for Tuesday and Fridays from 2.30 - 5.30pm. Tours are every half hour but need to be pre-booked. There is no guest parking at any of the residences.
The University Open Day is at the end of August each year, and is a great opportunity to visit every hall and residence and get a taste for what life in Student Accommodation is like. 
Please note: Tours are only offered on the above mentioned days and times to minimise disruption to residents in their homes. We do not offer tours on mornings, weekends or during university exams periods.
Semester Two: out of respect for our current residents during their study and exam period, tours will not be available at all residences from Tuesday 24 October – Monday 13 November.