Postgraduate study in Chemistry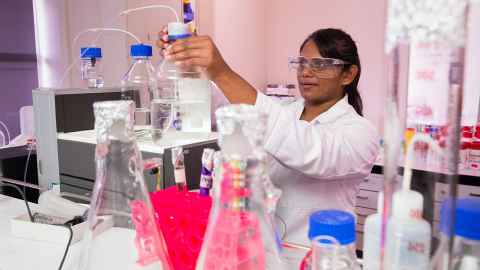 What can you study in Chemistry?
Postgraduate study in Chemistry covers research from across a wide range of chemical sciences.
You might find yourself in a research group designing enzyme inhibitors for diseases such as cancer, preparing new catalysts to help harness solar energy, developing a greater understanding and control of wine aromas, or designing new analytical instrumentation using laser micromachining.  To aid this wide range of activities we have an excellent suite of chemical instrumentation and state of the art laboratories.
Postgraduate study in Chemistry can be divided into two general areas - traditional chemistry, such as analytical, educational, environmental, inorganic, materials, medicinal, organic and physical chemistry - or, additional disciplines such as forensics, food, wine, polymers and coatings, or green chemistry.
Structuring your postgraduate programme in Chemistry
Bachelor of Science (Honours) (BSc(Hons)) in Chemistry
60 points from:
60 points from:
Or 45 points from:
And a further 15 points from 700 level courses in a related subject:
Postgraduate Diploma in Science (PGDipSci) in Chemistry
At least 90 points from:
Up to 30 points from:
If you are intending to study for a Master of Science in Chemistry you must take
Master of Science (MSc) in Chemistry 120-point (one-year) research masters
Master of Science (MSc) in Chemistry 240-point research masters
15 points from:
Courses
Explore the postgraduate courses you can take for a Chemistry major:
Where can postgraduate study in Chemistry take you?
Postgraduate study in Chemistry prepares you to work in many industries and fields such as: brewing, ceramics, food science, metals and agricultural, paper, paint and plastics, pharmaceutical, polymers and coatings, and Crown Research Institutes.
Jobs related to Chemistry
Analytical, inorganic, organic, materials, physical chemist
Biochemist
Chemistry technician
Forensic scientist
Higher education lecturer
Management of research and development units
Materials chemist
Organic chemist
Physical chemist
Research scientist
Science technician
Scientific advisor
Secondary teacher
Technical assistant
Help and advice
Student Hubs
Visit your hubs for help and advice on any aspect of your studies and life at University.
The Student Hubs are your physical gateway to Waipapa Taumata Rau | the University of Auckland.
The Student Hubs services are available seven days a week at the City, Grafton, Epsom and Tai Tonga campuses and six days a week at Tai Tokerau, with friendly staff available to provide you with advice on any aspect of your studies and life at the University.