Undergraduate study in Chemistry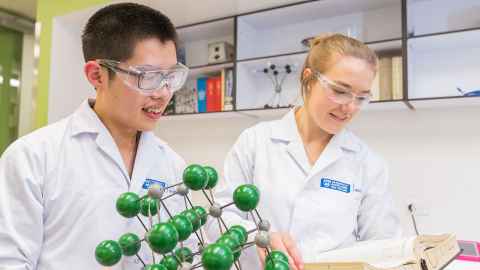 What can you study in Chemistry?
You can study Chemistry as a major in the Bachelor of Science (BSc), or as a specialisation in the Bachelor of Advanced Science (Honours) (BAdvSci(Hons)). You can find out more about these options below.
Studying the Bachelor of Science (BSc) majoring in Chemistry
Chemistry is the science of atoms and molecules. It deals with molecular structure and synthesis, chemical reactions and theoretical models that explain molecular behaviour.
Chemistry is a central science – it aims to understand the structure and properties of the world around us, and underpins fields as diverse as biology, geology, environmental science, medicine and engineering. The study of Chemistry leads to new substances, better processing reactions and greater understanding of materials, biological processing and the environment.
Your Chemistry studies will develop your ability to think logically, analyse complex systems and communicate clearly. It will also help you to be creative, numerate and computer literate. All core courses have a hands-on laboratory component and, as part of your major, you'll complete the Chemistry capstone course, CHEM 399, where you'll undertake an original laboratory research project or experiment and communicate your findings to others.
You'll gain experience in:
Laboratory skills and quantitative measurements
Experimental design, data processing and computer modelling
Synthesis and chemical analysis
Chemical safety and advanced instrumentation
Studying the Bachelor of Advanced Science (Honours) (BAdvSci(Hons)) specialising in Chemistry
This specialisation focuses on chemistry as a multi-disciplinary science. It includes an introduction to recent research, interdisciplinary aspects of chemical science research and the pathways to commercial applications of chemistry through research.
The BAdvSci(Hons) in Chemistry will teach you about the interplay of chemistry with other scientific disciplines and also with the commercial world, both of which are increasingly relevant in today's society.
There are a range of compulsory core courses that you'll have to take, but you can explore additional areas of your choice once you're in your third year. You'll also complete two advanced courses, which will prepare you to engage in research in the final year of your degree. This experience with research and research methods will also provide you with a strong foundation for postgraduate study in Chemistry.
Structuring your programme in Chemistry
If you began your degree prior to 2019 we recommend you seek advice to make sure you are taking the correct courses. Contact the Student Hubs for more info.
Where can undergraduate study in Chemistry take you?
You may end up working in the fields of food, paper, brewing, paint and plastics, ceramics, metals and agricultural products. Special applications include forensic science and the running of hospital laboratories. You could also work in a Crown Research Institute.
Jobs related to Chemistry
Analytical, inorganic, organic, materials, physical chemist
Biochemist
Chemistry technician
Lecturer or secondary school teacher
Research scientist
Science technician or technical assistant
Scientific advisor
Further study options
Bachelor of Science (Honours)
Master of Science
Postgraduate Diploma in Science
Doctor of Philosophy
Help and advice
Student Hubs
Visit your hubs for help and advice on any aspect of your studies and life at University.
The Student Hubs are your physical gateway to Waipapa Taumata Rau | the University of Auckland.
The Student Hubs services are available seven days a week at the City, Grafton, Epsom and Tai Tonga campuses and six days a week at Tai Tokerau, with friendly staff available to provide you with advice on any aspect of your studies and life at the University.