Undergraduate study in Psychology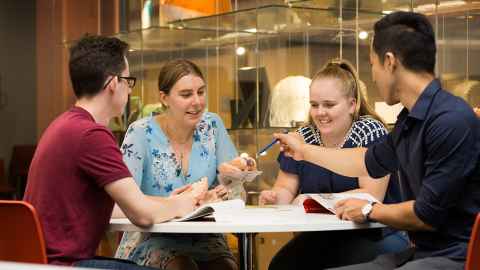 What can you study in Psychology?
Meet our student
Rodolfo Villanueva is studying a Bachelor of Science (BSc) in Psychology. Watch the video below and hear what he has to say about what it's like to be an undergraduate Psychology student.
Bachelor of Science (BSc) majoring in Psychology
As a BSc Psychology student you'll study a variety of approaches to the discipline, ranging from the quantitative to the qualitative and personalised, and the theoretical to the practical.
Modern psychologists base their theories on observable and repeatable behavioural data, ranging from counts of simple behaviour in animals to verbal reports of emotions and feelings in humans. As a result, practical work in the laboratory or field is an essential part of your major.
As part of your major you'll complete a capstone course, PSYCH 399 Communicating Psychology, where you'll work independently and in small groups to communicate psychological ideas and research using a range of media, including grant proposals, podcasts and print.  
Bachelor of Advanced Science (Honours) (BAdvSci(Hons)) specialising in Psychology
As a BAdvSci(Hons) Psychology student you'll take courses from a range of disciplines within Psychology, from social and applied psychology, to behavioural psychology, clinical psychology, cognitive neuroscience and cultural psychology.
In your second year you'll have the chance to specialise further as you take advanced courses that will prepare you for research at postgraduate level. In your fourth year you'll complete a practical research project under the direction of an academic supervisor, which will prepare you for entry into doctoral study or the workforce.
Bachelor of Arts (BA) majoring in Psychology
Psychology as a BA major enables you to study how people think, feel and behave. You will learn how the brain works, how children develop, and how people interact with their world. You can explore aspects of behaviour and wellbeing, such as how people cope with stressful life events. You can also study human personality and intelligence, and people's experiences of mental illness.
You can combine your BA major in Psychology with any other BA major that interests you. Some majors go particularly well with Psychology, such as Criminology, Sociology, Communication or Anthropology.
Structuring your programme in Psychology
Should I take Psychology in a Bachelor of Arts (BA) or a Bachelor of Science (BSc)?
Subjects that can be taken as a major under the Bachelor of Science (BSc) or Bachelor of Arts (BA) degree are Psychology, Geography, Mathematics and Logic and Computation. The courses you can take for each subject are the same under the BA and the BSc, but the major requirements for each degree may differ, and so you should consult the University Calendar, contact us or visit Student Hubs.
The difference will be around the other courses that are taken as part of the degree programme. For example, if you were wanting to major in Psychology and study other science subjects alongside your Psychology major, you would choose a Bachelor of Science. If you were more interested in social sciences, humanities, cultures, and languages, a Bachelor of Arts could be a better option.

Where can undergraduate study in Psychology take you?
Many avenues open up to graduates with training in psychology. Registered psychologists work in many aspects of mental health care and clinical psychology.
Jobs are available in the business environment involving the use of psychological tests, statistical analyses, or survey and questionnaire development. Staff recruitment, personnel training and evaluation are also areas that employ a lot of psychology graduates. Research careers can be developed in neural function and cognitive science.
Jobs related to Psychology
Clinician
HR specialist
Mental health practitioner
Psychologist
Researcher
Staff recruiter
Further study options
Help and advice for Arts and Science students
Student Hubs 
Visit your hubs for help and advice on any aspect of your studies and life at University.
The Student Hubs are your physical gateway to Waipapa Taumata Rau | the University of Auckland. 
The Student Hubs services are available seven days a week at the City, Grafton, Epsom and Tai Tonga campuses and six days a week at Tai Tokerau, with friendly staff available to provide you with advice on any aspect of your studies and life at the University.