Since 2016 the University has been using Journey Mapping to tell the overall story of its student experience - from their perspective.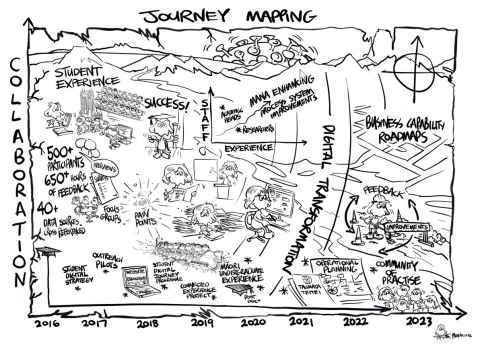 Hundreds of students, from prospect to alumni, have participated in this insightful process which has resulted in numerous University initiatives to increase student success – from Strategy development (like the Student Digital Strategy) to significant capital projects (like Connected Experiences).    
This year we are undertaking a new Journey Mapping exercise to identify the top pain points for Academic roles important to the delivery of key University services,  starting with our Academic Heads. It will complement other planning and prioritisation activities (Business Capability Road Maps, IT Capability Plans, etc) around key University functions and recommend mana-enhancing system, process, and material improvements around each journey.
In parallel, we will be refreshing our existing Māori Undergraduate Student Journey Map.