Inside this issue of UniNews: Architecture's Lama Tone – change of career; Marcia Leenen-Young, Pacific history and award; Juliet Gerrard's role in film; Richard Easther, physics dreams; Lixin Jiang on workplace stress; plus 'Good to Know' and staff 'In the News'.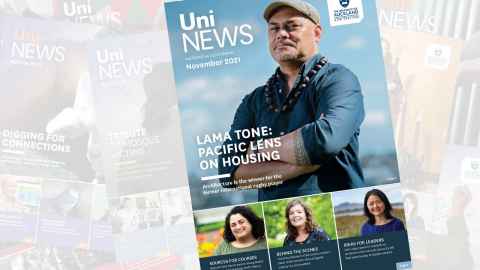 Cover story
Lama Tone was inspired by the buildings he saw all over the world as an international rugby player. Now he's an architecture lecturer who brings a Pacific lens to housing.

Features
Professor Juliet Gerrard has brought her own style to the role of the Prime Minister's Chief Science Advisor, as a new documentary shows.

Dr Marcia Leenen-Young is navigating a purposeful course through the Pacific's past.

Physics isn't something you study just to get a job, says Professor Richard Easther. It can open up a world of possibilities.

Lixin Jiang hopes her research on workplace stress will change people's lives.
Dr Barbara Staniforth says new policies need new responses, and when they're good we should take the politics out of the discussion.
All these items on PDF only
In the News (Pg 2 of PDF)
Professor Andrew Shelling
Amalia Bastos
Dr Heather Battles and Associate Professor Susanna Trnka
Dr Jin Russell
Professor Poul Nielsen

'Good to Know' stories
Dame Charmian O'Connor Pg 4
Velocity $100k winners Pg 4
Carley Fletcher, Equity Pg 4
School of Graduate Studies Showcase Pg 5 
Professor Boyd Swinburn honoured Pg 5
University helps with Covid-19 vaxes Pg 5
Toi me te Ahurea Art and Culture
Chloe Alderton's winning photo pg 11
Books pg 11
Nine Lives: New Zealand Writers on Notable New Zealanders Group editors, Upstart Press
Detection Theory: A User's Guide co-writer Michael Hautus, Routledge Press
Spies and Lies: TheMysterious Dr Dannevill  Julie Glamuzina, Double Axe Press
Spark Hunter, Sonya Wilson, The Cuba Press