Using Google Takeout to move your files and photos
How to move your Google files from your University Google Drive using Google Takeout
Important Information
Google Takeout is recommended as the simplest way to migrate up to 100GB of files. It allows you to select top level folders (you cannot select individual folders below the top level and you are unable to select individual files) to copy to another service. It creates compressed zip files that can be up to 50GB in size. We recommend a 10GB or 20GB zip file size is the most manageable. Once you have selected the folders you wish to copy Google will do this on their servers - you can turn your computer off if you wish as it won't affect Google Takeout.
We only recommend the use of Google Takeout for people who have less than 100GB of files they wish to copy due to the number of zip files that will be created
If you wish to copy up to 100GB to another cloud storage service and want to be able to have more choice on folders that aren't at your top level to move then you should fill in this form for project assistance
If you have more than 100GB of files to move to another cloud storage service then you should fill in this form for project assistance
1. Delete files you don't need
Make sure you've deleted files you don't need using these instructions
2. Make sure you copy any files shared with you
Google TakeOut won't copy files that have been shared with you. If you want to copy them:
Create a new folder in your Google Drive to move all your shared items into
Go to "Shared with Me" and add all the shared items from there to the new folder in your drive
3. Transfer any Google Photos
4. Use Google TakeOut to download your files
Google TakeOut can be used to export your contents of Drive
 Sign in using your @aucklanduni.ac.nz address and usual password
 Under 1. Select data to include, click the blue Deselect all link
 Put a tick in Drive. 
If you don't want to migrate all folders, then click on the All drive data included button. Remove the tick from Include all files and folders in Drive, click Deselect all and select the individual folders to export then click OK. If you have files that have been shared with you, make sure you select the folder you created in the step above
 Scroll to the bottom of the screen and click Next step
 Choose the Delivery method (normally this is send download link via email). Note that Add to OneDrive will not add to OneDrive for Business (the University's OneDrive)
Change the file type and size to 10 GB or 20GB (if you have closer to 200GB to move) 
Click Create Export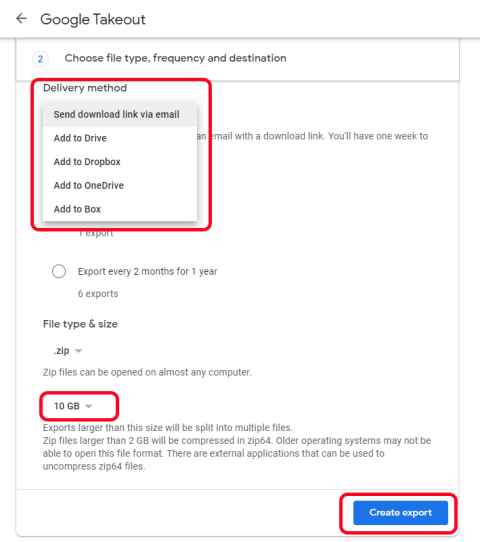 A zip file will now be created that you can open on your computer. This may take up to 3 days. Once it's been created you will be emailed at your @aucklanduni.ac.nz email address.
Click on the download link.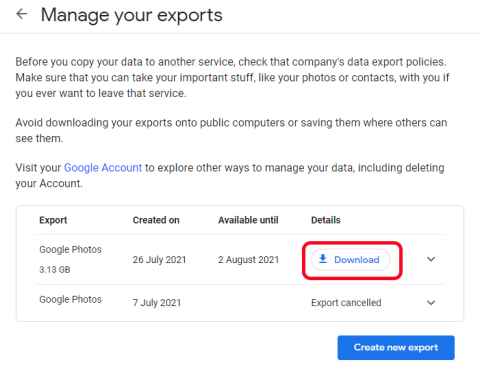 4. Extract the files from the zip file
Open the zip file(s) and extract them to folders on your computer
5. Check your files are OK
Where to find your files
All content will be copied into a folder labelled with your University account name and the date you initiated the copy process.
What WILL be Transferred
Files in Folders in Google Drive that are OWNED by you
Shared files that have been "Added to Drive" (Step 2 on this page) will be copied but the new file will NOT be shared with collaborators
What will NOT Transfer
Images stored under "Google Photos"
"Shared with Me" Files that have NOT been "Added to Drive"Google Sites, Google Forms, Google MyMaps & other third- party content in Drive
6. Copy the files to your new service
Once you have unzipped the file you can now copy the files to your new service. Instructions will be different for each. Your University OneDrive is only available to you while you are affiliated with the University so is not a good location for your personal photos.
7. Delete the old files
Google TakeOut copies your files - it doesn't move them. Once you have checked and are happy that you have all the files you need please remove the originals from your University Google Drive.
Note that Google uses the terms Bin and Trash to mean the same thing - on your device it may show Trash rather than Bin.
To remove files and folders in Google
Highlight the file or folder
Right-click and select Remove
Click Move to bin
Delete the folders and zip files from your local computer
I've accidentally deleted folders from Google Drive, how do I get them back?
Go to Bin (or Trash) on the left-hand side
Highlight the folder or file to restore, Right-click
and select Restore