Google GSuite includes GMail, Google Drive, Docs, Sheets, Slides and Forms
The University is moving away from Google Drive as a file storage option
Recent changes in Google's policies mean they will no longer be providing the University with free, unlimited Google Drive storage. To minimise costs associated with this change in direction from Google, the University is using this as an opportunity to rationalise its file storage options.
The University will therefore be moving to a supported file storage service (the Google Suite is not currently supported by the University) using Microsoft OneDrive.
When is this happening?
Google Drive storage available to the University after 1st October 2023 will be only 10% of what we currently use. We all need to start moving files off Google Drive – the sooner the better. We will also need to implement storage quotas from the second half of 2022 to allow us to achieve this goal.
We will let you know more as information becomes available to us.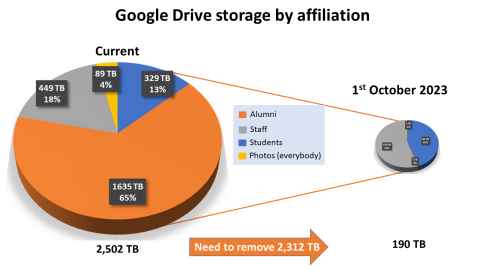 What about Google Drive for new staff and students?
We will stop allocating Google Drive storage to new staff and students for Semester 1, 2022. The exact dates around these changes are dependent on when Google releases new administration tools that will facilitate this, but we will provide as much notice here as possible.
Note that this does still allow staff and students to access Google Docs, Sheets and Slides that have been created by existing staff or students and shared.
New staff and students will also continue to be provided with an @aucklanduni.ac.nz email address.
What about my @aucklanduni.ac.nz email account?
We currently do not envisage any changes to your @aucklanduni.ac.nz email account. We also plan to continue to offer these email accounts to new staff and students.
How do I find out more?
We will continue to communicate with you regarding these changes. For the latest information, including instructions on how to move your files to other services please check this website.
We will also be talking directly with faculties and service divisions so that everyone is aware of these changes and the work they will need to do.
You can also email googlechanges@auckland.ac.nz