Google GSuite includes GMail, Google Drive, Docs, Sheets, Slides and Forms

The University needs to reduce how much it stores in Google Drive
Recent changes in Google's policies worldwide mean they will no longer be providing the University and other educational institutes with free, unlimited Google Drive storage.  Continuing with the current size of our Google GSuite environment will cost the University dearly on an annual basis. To minimise costs associated with this change in direction from Google, the University is using this as an opportunity to rationalise its file storage options.
The University needs to significantly reduce how much we store in Google to avoid this annual charge that Google will impose.
The University will therefore be moving to a supported file storage service (the Google Suite is not currently supported by the University) using Microsoft OneDrive.
Google Drive will continue to be offered for existing staff and students, but with a quota of 1GB enforced from 1st October 2023. The small quota will allow for continued sharing using Google Docs, Sheets and Slides.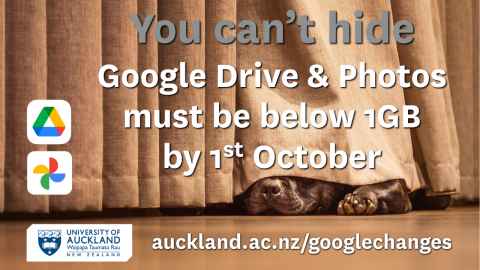 When is this happening?
Google Drive storage available to the University after 1st October 2023 will be only 10% of what we currently use. We all need to start tidying up and moving files off Google Drive – the sooner the better. We will also need to implement storage quotas during 2022 to allow us to achieve this goal. The ongoing storage allocated for existing staff and students on Google Drive will be 1GB starting from October 2023.
I don't know if I'm using more than 1GB
To find out how much space you are currently using in Google Drive click this link and login with your @aucklanduni.ac.nz details.  You need to add the Google Drive and Google Photos  amounts together (you can ignore the Gmail number). You can also do a tidy up using this guide.
Handy tip:
If it says that you are using "xxx of 15GB" then you are signed in with a personal Google account and will need to use a different browser and login with your University details.
How does this affect me?
What about Google Drive for new staff and students?
We will be allocating a 1GB Google Drive to new staff and students starting during 2023. 
The 1GB allocation allows staff and students to access Google Docs, Sheets and Slides that have been created by existing staff or students and shared.
New staff and students will also continue to be provided with an @aucklanduni.ac.nz email address
All new staff and students automatically get a large 1TB OneDrive for the period they are enrolled or affiliated with the University
What about my @aucklanduni.ac.nz email account?
We will continue to offer these email accounts to new staff and students. They will also be available to ex-staff and ex-students. We will likely introduce storage quotas on email, but this will only affect the top 2% of mailboxes. 
Where did we start?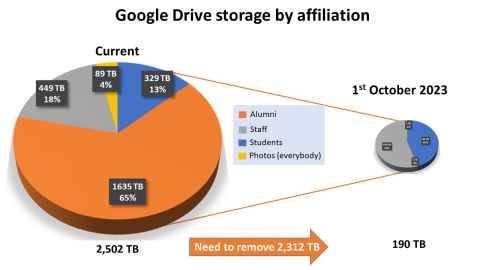 How are we shrinking?
How do I find out more?
We will continue to communicate with you regarding these changes. For the latest information, including instructions on how to move your files to other services please check this website.
We will also be talking directly with faculties and service divisions so that everyone is aware of these changes and the work they will need to do.