Remembering to eat well while you're busy studying can be difficult. But a decent meal can do wonders when it comes to giving your brain a boost.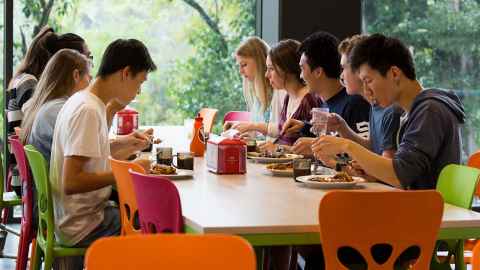 So here's a fun fact: the brain uses more energy than any other organ in the body. This means it needs to be adequately nourished so it can do its job properly, and help the rest of the body to perform as it needs to.
The best way to help your brain and body achieve is to eat nutritiously and regularly throughout the day.
Not sure what that means exactly? Never fear!  Check out our handy tips for eating all the good things below.
Eat your breakfast: We probably don't need to tell you how important breakfast is, but just in case you didn't know…guys, it's really important! Get your day started right by eating right.
Try peanut butter and banana on wholegrain toast or Weet-Bix with fruit, almonds and milk.
See more healthy breakfast ideas here.
Be a star performer: If you're feeling flummoxed in the supermarket, let the health star ratings on packaging be your guide. The more stars you see displayed on a packet, the healthier the grub hiding inside.
Learn more about health star ratings.
Keep an eye out for sugar: Sugar is hiding everywhere, so be mindful when you're buying a snack. Sodas, sports drinks and energy drinks can often contain up to 15 teaspoons of sugar – yikes!
Learn more about the sugars lurking in beverages.
Read a recipe: There are heaps of budget-friendly recipes floating about in the world and tonnes of them are really healthy too! Take some time to flick through a recipe book or two and get experimental in the kitchen.
Check out this student-friendly recipe collection for some inspiration.
Watch: Manage your mood with food