Keep yourself at the top of your academic game this semester by making exercise a part of your routine. Your body and brain will thank you for it.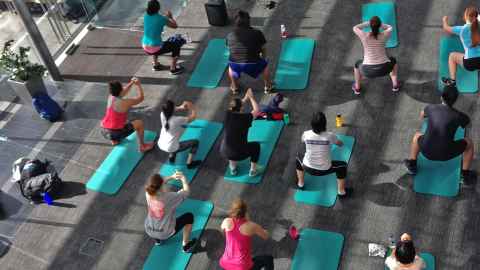 Incorporating an aerobic activity into your day can do all sorts of wonderful things to your body, like improving memory retention and boosting your overall mood. It might seem like a hassle to think of ways to exercise after a long day at Uni is done and dusted, but never fear - we've got the low down on how to get sweaty, without breaking a (mental) sweat.
1. Start small: Get into the habit of going for a walk between lectures two or three times a week. Hit the local park, walk to the nearest block of shops, take the stairs instead of the lift, or get off the bus one stop early and wander into University.
2. Get on your bike: Cycling in to University is a great way to incorporate some exercise into your day, without eating into your hectic lecture schedule. Check out where you can leave your bike when on the city campus. 
3. Join the gym: This one is for all the City Campus students… make good use of the facilities on your doorstep! The Sport and Rec gym is a great place to get your exercising sorted. There's a wide range of gym equipment for those who are that way inclined, or there are group fitness classes, which are a fun and social way to get your heart pumping. 
4. Find a friend: If you commit to exercising with a friend, it becomes that much easier to stick to. Think about joining a sports-based club, or one that involves a high level of activity like tramping, table tennis or running. You can make some friends and get fit – win win!
5. Challenge a mate: Make good use of the volleyball court, ping pong tables and basketball courts situated on campus and go up against your buddies for some friendly competition. 
6. Do what you love: Once you find an activity that you like, stick with it! You're much more likely to stay active, if you're breaking a sweat doing something that makes you feel happy and energised.