Undergraduate study in Physiology
The study of how the human body works, with a focus on understanding what influences the development of disease.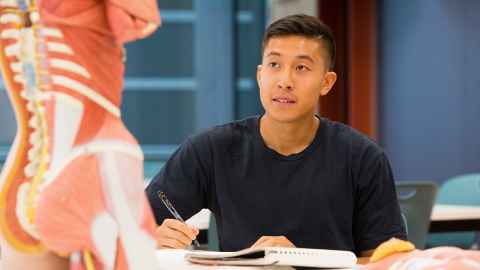 What can you study in Physiology?
You can study Physiology as a major in the Bachelor of Science (BSc).
Physiology is the study of how living organisms function, from the cellular to the whole-body level. If we understand how organisms work, we can understand what goes wrong in disease, and develop a scientific basis for its treatment. Physiology is highly quantitative and has close links with biochemistry, molecular biology, mathematical modelling, pharmacology, zoology and neuroscience.
As a Physiology student, you'll take courses in Biological Sciences, Chemistry, Medical
Science and Physics to give you a solid quantitative grounding and to encourage critical thinking, science innovation and translation. As part of your Physiology major you'll complete a capstone course, PHYSIOL 399, where you'll demonstrate your knowledge and skills through the design of a scientific research project. You'll explore ethics, the role of science and scientists in society, science communication, and commitment to Māori and Pacific health advancement.
Undergraduate Advisor 
Anuj Bhargava

Structuring your programme in Physiology
If you began your degree prior to 2019 we recommend you seek advice to make sure you are taking the correct courses. Contact the Student Hubs at studentinfo@auckland.ac.nz.

Where can undergraduate study in Physiology take you?
Physiology holds a central position amongst the biological and medical sciences. With a physiology background you could work in New Zealand's rapidly growing healthcare sector. There is also much work overseas, with a strong demand from the international biomedical research community for physiology graduates.
Career opportunities include:
Biomedical research
Industry research
Medical journalism and science communication
Sports physiology
A Physiology background is also very desirable for clinical professions. For example, it could lead to work in the areas of audiology, medicine, optometry and veterinary medicine. Physiology has always been important in medical research and drug development.
Further study options
Help and advice
Student Hubs 
Visit your hubs for help and advice on any aspect of your studies and life at University.
The Student Hubs are your physical gateway to Waipapa Taumata Rau | the University of Auckland. 
The Student Hubs services are available seven days a week at the City, Grafton, Epsom and Tai Tonga campuses and six days a week at Tai Tokerau, with friendly staff available to provide you with advice on any aspect of your studies and life at the University.