Postgraduate study in Marine Science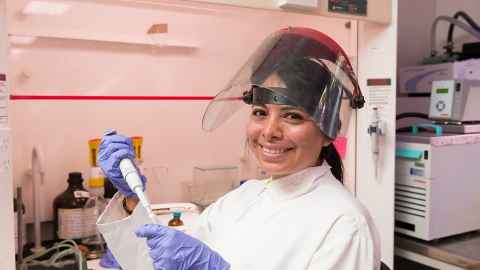 What can you study in Marine Science?
Postgraduate study in Marine Science is your opportunity to advance your knowledge and skills in this fascinating field. Marine Science is as diverse as the environments and species that exist in the marine habitat. You can focus your study on topics such as:
Biochemistry and physiology of marine organisms
Biogeography
Enhancement of aquaculture and fisheries
Functioning of estuarine and marine ecosystems
Management and conservation
Subject structure
Master of Science (MSc) in Marine Science 120 point (one-year) research masters
Master of Science (MSc) in Marine Science 240 point research masters
Postgraduate Diploma in Science (PGDipSci) in Marine Science
15 points:
15 points from:
90 points from 700 courses in related subjects:

Including at least 30 points from:

Courses
Explore the postgraduate courses you can take for a Marine Science major:
Where can postgraduate study in Marine Science take you?
Marine scientists can be found working in a wide range of occupations in an equally wide range of organisations.
Jobs related to Marine Sciences include:
Aquaculture
Biodiversity management
Conservation
Consulting
Fisheries management
Marine biology
Marine education
Pharmaceutical development
Policy advice
Research
Resource planning
Scholarships and awards
Each year we award scholarships and prizes to thousands of students.
Find out about the scholarships you may be eligible for, search available scholarships or begin an application by visiting Scholarships and awards.
Help and advice
For further information and advice, please contact the Science Student Centre.
Science Student Centre
Level G, Room G 20
(beside the entrance to the Large Chemistry Lecture Theatre)
Building 301
23 Symonds Street
Auckland 1010
Phone: +64 9 923 7020
Email: pgscience@auckland.ac.nz
To find a supervisor to work with you on your research project please see Postgraduate Research Topics.