Undergraduate study in Marine Science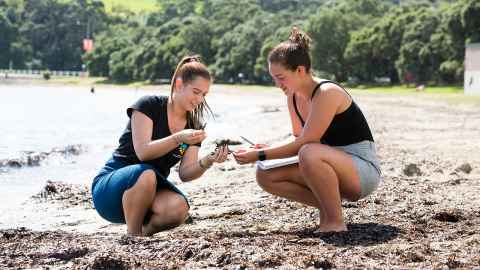 What can you study in Marine Science?
You can study Marine Science as a major in the Bachelor of Science (BSc), or as a specialisation in the Bachelor of Advanced Science (Honours) (BAdvSci(Hons)). You can find out more about these options below.
As a Marine Science student you can study the following topics:
Physical and biological structure of the oceans, sea floor and coastlines
Structure, biodiversity and ecology of lakes, streams, wetlands and estuaries
Monitoring and managing marine ecosystems
Oceanography and climate impacts
Welfare of marine animals and fish stocks
Marine Science is centred on the Leigh Marine Laboratory, which offers unique opportunities in marine and environmental research. Facilities include a new 14m research vessel, excellent diving facilities, a flow-through seawater system for tank experiments, onsite accommodation for students and visitors, a library and access to the University's online catalogue, aquaculture facilities, a meteorological station and well-equipped laboratories.
We encourage our students to develop an appreciation for Māori and Pacific perspectives on the oceans by taking one or both of the following General Education courses: PACIFIC 100G Introduction to Pacific Studies and MĀORI 130G Te Ao Māori / The Māori World. 
Marine Science is multi-disciplinary in nature. Alongside Marine Science, you will study other science subjects. This will develop your ability to interact with specialists from other disciplines to help solve complex problems in the marine world.
Studying a Bachelor of Science majoring in Marine Science
Based in the Institute of Marine Science, the Marine Science major is a multi-disciplinary subject involving many of the other sciences to investigate the physical, biological and some social and economic dimensions of the marine environment.
As a Marine Science student you'll take a variety of courses from Biological Sciences, Earth Sciences, Environmental Science, Geography and Statistics. You'll also complete a compulsory capstone course, MARINE 399, where you'll demonstrate your learning by engaging in an independent research project under the guidance of an academic mentor.  
Studying the Bachelor of Advanced Science (Honours) specialising in Marine Science
Understanding and managing the oceans requires a multi-disciplinary approach, with scientists needing core skills in one or more individual disciplines and the ability to take a collaborative approach to research. A BAdvSci(Hons) in Marine Science will provide you with an excellent opportunity to develop these skills. You'll take a range of core courses to explore current scientific and management issues, with a focus on in-depth case studies to demonstrate the multi-disciplinary nature of the work required to solve significant marine science problems.
You'll also take courses to develop quantitative skills in data exploration, modelling and statistics, as well as advanced practical research skills courses. In your fourth year you'll complete an independent research project. This will prepare you to continue on to doctoral study or enter the workforce.  
Structuring your programme in Marine Science
If you began your degree prior to 2019 we recommend you seek advice to make sure you are taking the correct courses. Contact the Student Hubs at studentinfo@auckland.ac.nz.

Where can undergraduate study in Marine Science take you?
The number of jobs in Marine Science is increasing steadily due to economic, social and legislative factors. Marine Science graduates find employment in a wide range of areas.
Jobs related to Marine Science
Education
Fisheries and aquaculture
Local territorial authorities, city and regional councils, MAF fisheries, Ministry for the Environment, Department of Conservation
Research organisations
Universities
Further study options
Scholarships and awards
Each year we award scholarships and prizes to thousands of students.
Find out about the scholarships you may be eligible for, search available scholarships or begin an application by visiting Scholarships and awards.
Help and advice
Student Hubs 
Visit your hubs for help and advice on any aspect of your studies and life at University.
The Student Hubs are your physical gateway to Waipapa Taumata Rau | the University of Auckland. 
The Student Hubs services are available seven days a week at the City, Grafton, Epsom and Tai Tonga campuses and six days a week at Tai Tokerau, with friendly staff available to provide you with advice on any aspect of your studies and life at the University.