Jayden Houghton (Rereahu Maniapoto) is a Lecturer and the Assistant Dean (Teaching and Learning) at the Auckland Law School. He is passionate about learning-focused teaching and using legal history to refocus conversations on the remarkable but unremarked work of earlier Māori legal scholars and advocates as conversations catch up.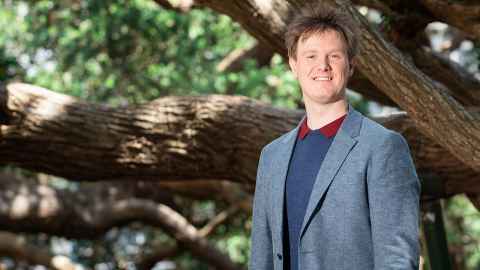 Māori academics also frequently take on additional responsibilities, sometimes called 'hidden service'. As one example, Māori views are encouraged on University and Faculty proposals and changes to policy. This positively reflects the University's commitment to the Treaty partnership.
This interview forms part of the "Career Pathway Stories".
When did you realise you wanted to be an academic?
I have always been interested in teaching. My interest in research formalised when I took my LLB(Hons) seminar in Legal History with Professor David V Williams at the University of Auckland's Law School. I worked out that I am not so interested in giving advice or making practical recommendations, but I love making sense of ambiguous history and abstract concepts. I took as many opportunities as I could to work on research papers: I secured summer research scholarships over two summers; and I was appointed as an Editor-in-Chief for the Auckland University Law Review. I was also appointed as a Law School tutor, while still an undergraduate. With each opportunity I demonstrated new capabilities and established a reputation for good work. Eventually, I was sought out for increasingly senior responsibilities. In the process, I was proving that I have what it takes to be an academic, and being an academic became part of my identity.
What is the most rewarding thing about working in academia?
I can think of a few. I get excited when my research is published, and I notice others citing and talking about it. I like the immediate feedback in lectures — you can feel it when you are getting through to students. I also enjoy supervising students writing LLB(Hons) and LLM dissertations — it is satisfying to mentor students on the research journey from their initial idea to a finely crafted end product, particularly when it gets published.
What do you teach?
I direct and teach the compulsory Land Law course, as well as several electives, including Contemporary Issues in Land Law, Māori Land Law and Mātauranga Māori and Taonga. I am course director for the Community Law Internship course, in which each student works as a legal intern and writes a critical reflection on their experience for course credit. I have also taught parts of Contemporary Tiriti/Treaty Issues, Law and Social Justice and Intellectual Property. Next year, I will be offering Mātauranga Māori and Taonga as a full-year seminar for Honours students, which I am looking forward to.
I lecture 75–100 hours of lectures a year and, for me, these are usually scheduled in five months of the year — usually May, and July to October.
 
The interview was published in the Faculty of Law, University of Auckland newsletter dated
13 September 2022.