Undergraduate study in Biomedical Science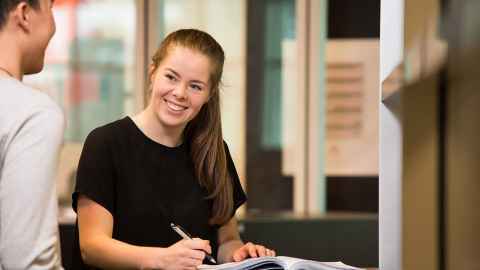 What can you study in Biomedical Science?
You can study Biomedical Science as a specialisation in the Bachelor of Science (BSc).
If you're a very able student with a passion for understanding the scientific basis of health and disease in humans and animals, then Biomedical Science could be the specialisation for you.
This challenging and immensely rewarding specialisation will deliver rigorous scientific
training in a range of disciplines, allowing you to gain unique insights into this important and rapidly developing area of modern research.
The specialisation is highly prescriptive, and is one of only two ways in which you can be selected for Medicine (MBChB) at the end of your first year. The first year of the Biomedical Science specialisation includes compulsory courses that all students must take. However, as you progress through your second and third years, you can opt to keep your specialisation general or you can choose one of the following pathways to focus your studies:
Biomedical Science is jointly taught by the Faculty of Science and the Faculty of Medical and Health Sciences.  
Structuring your programme in Biomedical Science
If you began your degree prior to 2019 we recommend you seek advice to make sure you are taking the correct courses. Contact the Student Hubs at studentinfo@auckland.ac.nz.

Entry requirements for Biomedical Science
Entry to the Bachelor of Science in Biomedical Science is limited. Selection into this programme will require a higher standard than some other programmes.
| Secondary school qualification | Rank score required |
| --- | --- |
| NCEA | 280 |
| CIE | 310 |
| IB | 33 |
Where can undergraduate study in Biomedical Science take you?
Biomedical Science equips students for a wide range of opportunities in scientific industries or the health sector. It offers a strong foundation for a number of careers, including medicine.
You could find work in a biomedical or biotechnology company as a scientific officer or technician, or alternatively work as a science teacher, science writer or a biomedical researcher in a university or government agency such as a Crown Research Institute. Many honours graduates in Biomedical Science will move on to careers as research leaders after further graduate training.
There is high demand for biomedical scientists in Europe and the US, and growth is expected in New Zealand.
Further study options:
Programmes you can apply to transfer into with a BSc in Biomedical Science:
Change your major as a Biomedical Science student
If you are a Biomedical Science student, you can change your major within the Bachelor of Science by completing  this online form.
Help and advice
Student Hubs
Visit your hubs for help and advice on any aspect of your studies and life at University.
The Student Hubs are your physical gateway to Waipapa Taumata Rau | the University of Auckland.
The Student Hubs services are available seven days a week at the City, Grafton, Epsom and Tai Tonga campuses and six days a week at Tai Tokerau, with friendly staff available to provide you with advice on any aspect of your studies and life at the University.