Our Global Studies founder
We remember Dr Hilary Chung, the founder and original director of the Global Studies programme.
Dr Hilary Chung was the driving force behind establishing the Bachelor of Global Studies, a degree for students "who want to change the world." In a few short years Dr Chung built a flourishing and vibrant community, the Global Studies programme growing from less than 100 students when it launched in 2018 to over 700 strong today.
In addition to her Global Studies work, she was a fluent Mandarin speaker, an expert in comparative literature and modern Chinese literature as well as gender and representation in literature. In her free time, she enjoyed cycling and paddle-boarding.
Dr Chung passed away in August 2020 following a long battle with cancer. This space is to remember and honour her work, passion, and impact.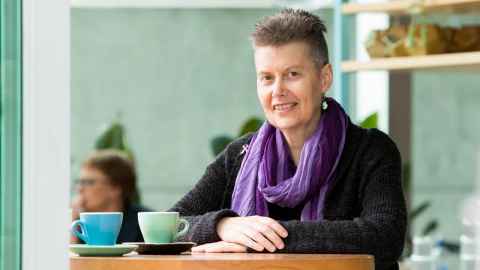 Words for Hilary
"Hilary was a star, she exuded light and energy. She is my definition of a true leader, not seeking recognition or fame but rather constantly advocating and supporting those she was responsible for. A person who knew each and every one of us by name and our intention with our degrees."
    
"Hilary's passion for Global Studies was unmatched and her dedication is reflected in the program's success and growth. Further, she really cared about her students and was always willing to help and support - she is greatly missed!"
"Hilary was the kind of leader that I'll always aspire to be: Honest about the harder things in life, but enthusiastic, nonetheless. When I think of her now, the image I get is fresh like it was yesterday – that frankness (you're bloody not doing five papers this semester!) mixed with a really natural inquisitiveness and vivacity. Moe mai rā e te toa."
    – Eli Pettersen
"Hey Hilary, I'm sure you would be so stoked with all the graduates and their endeavours. I miss your voice!"
"You have inspired me to make my mark on the world." 
"Thank you for creating a space where I was able to meet lifelong friends. I don't think you could fathom how much this degree changed my life for the better. I wish you could see the joy you brought every single one of us."
"Hilary was so passionate about everything she did and was instrumental in building up our very successful Global Studies programme."
    - Professor Robert Greenberg, Dean of Arts
"Thank you for everything."
    -Abigail Masengi
"You fought for me to get the education I deserved. I'm gonna use everything you've taught me to fight for the people who need access to medication and healthcare because I know it's what you would've wanted me to do. Thank you, for believing in me even when I didn't believe in myself."
"My favourite memory of Hilary was her saying that she made this degree for us, and it was to be shaped by us. If we ever wanted to do a paper that didn't exactly fall into the degree plan she would find a way to make it work. Hilary genuinely created more than a degree; she created a whānau." 

"Hilary was the underlying reason why I decided on Global Studies and inevitably why I came to Auckland in the first place. Seeing how she championed this degree with the greatest passion, integrity, and care for her staff and students was incomparably inspiring."
"I loved the way she could call out all the potential and the gold in a person. She truly was our number one supporter. I can't thank her enough."
    - Cal Tokorangi
"Thank you for being such a warm, energetic and passionate teacher and role model to all Global studies students. You made me feel so welcome as a first-year student and excited to be a part of this degree."
"Dear Hilary, your passion and vivacity was what inspired me to take Global Studies. The incredible way you cared so strongly for everyone and everything was a tribute to who you were and are. Thank you." 
"Hilary had always put her students first, and generously gave them the most precious thing she had - her time. She would spend hours with students teaching, planning their degrees, writing scholarship references, listening to their ideas, and supporting them through tough times.
"Unfortunately, she could not see our first graduates walk across the stage or learn about their exciting jobs; but her vision for the Global Studies programme takes shape. Her legacy becomes an inspiration for other interdisciplinary degrees at the university and across New Zealand, it becomes our alumni settling in across the public sector and the industries with aspirations and skills to be the change and shape a better future. Thank you, Hilary, you will be in our hearts and minds forever."
        - Dr Svetlana Kostrykina, Global Studies Student and Programme Adviser