Indigenous support officer
Tammy Kingi completed a Master of Arts in Pacific Studies and is now the Indigenous support officer at Trinity College, University of Melbourne.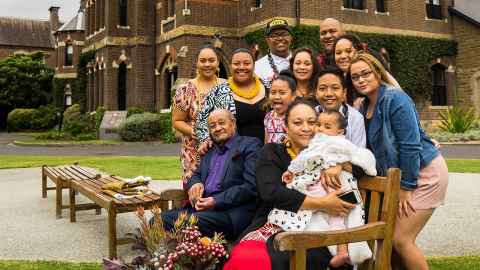 Key facts
Career: Indigenous support officer
Programme: Master of Arts
Subject: Pacific Studies
"I am the Indigenous support officer at Trinity College, University of Melbourne. I am responsible for pastoral, academic and wellbeing care of Indigenous students at the residential college as well as community outreach.
"I have enjoyed seeing similarities in Pasifika, Māori and Indigenous Australian cultures and learning more about all of those realms. Part of my role is going to different states and schools to inspire students about higher education and possible career pathways. This, along with seeing students complete their studies, is a real highlight for me. So far I've travelled to many places in Australia already for my job and have many more outreach opportunities lined up.
"Getting a university education, being involved with student associations, meeting other amazing Indigenous thinkers and surrounding myself with culture, are all things I took away with me from my time in the Faculty of Arts.
"The most useful knowledge has been learning about cultural education, western versus Indigenous literature, and study skills. Everything that I was involved with at the University of Auckland has helped to inform every part of my journey since finishing my studies. I'm so grateful to Pacific Studies and their support for me.
I studied Arts because I loved what it stood for. The fact that I could embrace my culture, research linguistics in an attempt to revive my own endangered language, while keeping employment options broad was a combination I could not pass up.
"I was going to be a lawyer but I loved advocating from the grass roots. Access to Pacific literature and established academics was always a buzz for me. I've presented my research at various forums since and it has been an honour to represent my country through my studies.
"An Arts degree is what you make of it and it has really helped me with my employment opportunities, further postgraduate studies and life skills. Arts enables you to keep your options open – so give it a go!"