Studying Global Studies has enabled Riley Stevenson to serve Auckland communities within the finance sector.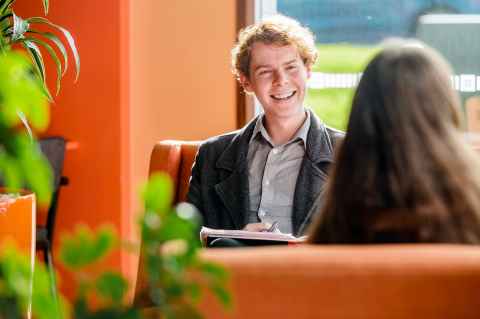 Key facts
Role: Member Services officer
Organisation: NZCU Auckland
Major: International Relations and Business
"I work as a Member Services Officer at NZCU Auckland. NZCU is a financial cooperative – meaning that our organisation is not-for-profit, and our funds are sourced from the community, not investors. Each person that has an account with us owns a piece of the credit union. We provide tailored financial and banking services for our members and place them first above all else – they're not just a number, they're a valuable contributing individual to our organisation.
"As we're smaller in size than a registered bank I wear many hats in my role, including providing financial advice; helping individuals navigate their situation through loans, insurances, and emergency overdrafts; and at times educating our members around their financial wellbeing. The role is quite expansive and covers many areas.
"Aucklanders, particularly the south and central communities that we serve, are hugely diverse in culture, ethnicity, identity and more.

Global Studies truly developed my skills in
intercultural communication and insight into others' perspectives.
"There is a lot of stigma around personal finances and culture plays a huge part in that - Global Studies has enabled me to think outside of the status quo and understand how empathy can go so far in the provision of a service.
"The biggest highlight of my role is the people – I get to catch up with the members we've helped in the past and track their financial progress and wellbeing. For me, going the extra mile and helping people out of overwhelming and unsavoury financial conditions is truly rewarding.
"Whilst studying I didn't think I'd work in the financial services industry, however it's full of opportunities and growth. I also have a passion for communications which I discovered working in the Global Studies Students Society (AUGSS). With my knowledge of both financial services and communications, I'm driven to work in a role educating the public and advocating for more equity and knowledge within the industry."