Ruby Satele is pursuing her lifelong fascination with cultural heritage caring for the Pacific ethnology collection and its tāonga at Auckland Museum.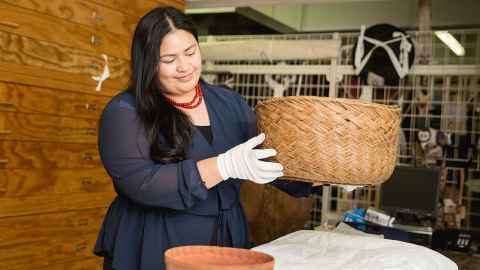 Key facts
Career: Collection manager, Pacific, in Human History at Auckland War Memorial Museum
Programme: Bachelor of Arts; Postgraduate Diploma in Arts; Master of Arts
Subjects: Art History + Pacific Studies; Museums and Cultural Heritage
"I care for and provide access to the Pacific ethnology collection using best museum practices. The role itself is wide-ranging and entails processing acquisitions, creating packing units, tracking objects, facilitating external visits and much more.
"I delight in caring for and learning about the collection and its tāonga. Knowing that the collection I care for has connections to my own ancestors gives me personal joy and makes for a more intimate work experience.
"From a young age, I have always been fascinated by cultural heritage and the stories they hold. I was intrigued by the concepts of objects and their capacity to carry the stories of the past.
"I knew I wanted a career in working with cultural heritage and so I began my tertiary studies in Archaeology. The years following led me to consider a potential future in Museums as a place to carry out my aspirations. I approached postgraduate studies accordingly and have never looked back.
My interests are in Pacific, Māori, Indigenous and local history so that was a deciding factor for my choice to study at the University of Auckland.
"Postgraduate study has helped me to develop skills that are advantageous in the Museum sector such as research skills, current conversations, confidence in object handling and a deepened appreciation for cultural heritage. My studies also challenged me to reach out and establish relationships with museum professionals.
"Understanding indigenous perspectives has shaped my thinking and worldview. This continues to be challenged, reshaped and strengthened as I work in the sector. I gather all my learnings to help inform my work practices."