Matilda is studying a Bachelor of Global Studies in Global Politics and Human Rights.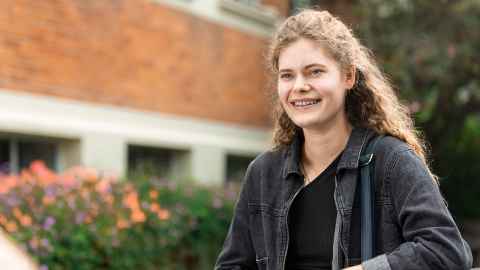 Key facts
Programme: Bachelor of Global Studies
Majors: Global Politics and Human Rights
I chose to study at the University of Auckland because it is the only place in New Zealand that offers a Bachelor of Global Studies. I could learn about a variety of subjects I was interested in. I could learn the way the world functions. I could also learn Spanish, as its compulsory to learn a language in Global Studies.
"I also chose to come to Auckland because it's the biggest city in New Zealand, and having lived in England the year before, I would have felt less at home in a smaller city. Auckland's climate was also a factor in my decision. I love the rain, and also being warm.
"I am from Nelson, so I was excited about being in a big city and having access to many things a smaller town does not have. Specifically, the concerts, shopping, clubs and good public transport.
"I changed my major to Global Politics and Humans Rights in my second year after realising I was more passionate in learning about the injustices people face. This major has given me an intellectual grasp of the global stage and has opened me up to inequalities people experience globally and locally.

I love that my subjects are interconnected and I'm able to transfer knowledge between them. For example, I can use what I learn in History as background for my Latin American migration course, which provides me with background for my Spanish classes.

"I also love that all my subjects connect to the real world so I can use what I am taught in my lectures every day, specifically in conversations with my friends about current global events.
"Once I graduate, I plan to do postgraduate studies in America. After that I aim to be a diplomat for New Zealand, working in North or South America or Spain, where I can use the Spanish I have learnt."