From mathematical modelling to proactive medicine. Wide implications for health and wellbeing with new ways for looking at diagnostics and treatment.
Over 20 years ago, the Auckland Bioengineering Institute pioneered the Physiome Project.
Developing computational models of cells, tissues and organs to improve our understanding of human health and disease.
Investigating how every component in the body, from molecules up to organ systems works as part of the integrated whole.
Establishing open community standards for the archiving and sharing of reproducible and reusable computational models.

The 12 LABOURS Project brings together this large body of knowledge and extends it to develop personalised physiome models from clinical images, diagnostics data, implantable and wearable devices, leading to improve clinical treatments for disease and facilitating home-based care.

Faster response and improved outcomes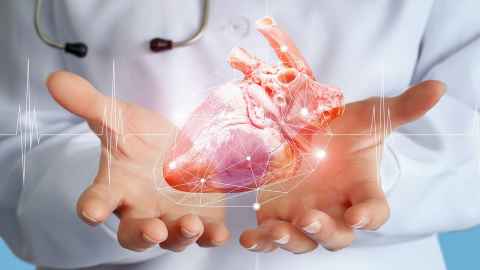 Disease diagnosis often comes too late, as it depends on reporting of symptoms by the individual and can lead to significant interventions. If we could predict a problem early, we could make small interventions to prevent it from becoming serious. Wearable and implantable medical devices can be used for continuous monitoring of physiological symptoms and provide therapeutic intervention. However, interpretation of data from monitoring devices, and their therapeutic application requires knowledge that is much more integrated and personalised than is currently available.
Digital twin: Increased patient safety and accessibility
Creating a generic digital human that is then personalised, a 'digital twin', will provide better understanding of an individual's physiological processes and any changes that could lead to serious health consequences.
Enabling medical professionals to perform controlled and repeatable tests to discover how outcomes differ for various interventions leading to rapid selection of optimal interventions for the patient.
Form a basis from which new strategies are created for treating disease.
Inital focus
Pulmonary hypertension
Upper limb disorders
Gut health
Womens health
Project outcomes
Improved health outcomes by enabling personalised treatment to disease and allowing proactive treatment.
Implantable and wearable devices will allow the ongoing monitoring and management of health conditions.
Economic impact for Aotearoa/NZ through the spinout of medical technology companies.
Position Aotearoa/NZ as a world leader in medical technology.
12 Labours Seminar Series
The 12 Labours seminar series is an opportunity for the wider biomedical engineering community to engage with the research being done at the Auckland Bioengineering Institute in collaboration with our international partners.
The seminar series runs every first Wednesday of the month at 12-1pm (NZT). Each seminar will be recorded, and a Q&A session will be live for 48 hours following the seminar. You can find more details on the topics here:
Members
Primary contacts
Dana Felbab
Project Manager

Academics
Thiranja Prasad Babarenda Gamage
Thor Besier
David Budgett
Leo Cheng
Julie Choisne
Alys Clark
Simon Malpas
Martyn Nash
David Nickerson
Poul Nielsen
Soroush Safaei
Andrew Taberner
Merryn Tawhai