Discover the large inventory of tools and equipment in the Electronics workshop.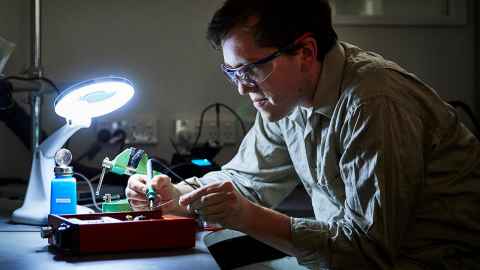 What we have
Among the many tools in this workshop, you'll find microscopes, soldering and desoldering stations, a PCB oven and a PCB board pre-preheater. An electronics engineer is also available to assist with your projects. Three workstations are available for general purpose and surface mount technology (SMT) assembly work.

The Electronics workshop also features:
A components store
Fully equipped ESD mats
Hot air, ability to do board pre-heating
SMT oven
Desoldering station

LPKF ProtoMat S42
Our workshop houses a LPKF ProtoMat S42 board router which is used for the manufacture of printed circuit boards.
Specifications
Working area (X/Y) – 229mm x 305mm
Resolution – 7.5 µm
Milling motor speed (rpm) – 42,000
Tool change – Manual
Tool collet – 1/8" (3.175 mm)
Drilling speed (holes per minute) – 90
X/Y positioning system 2-phase stepper motors
Z-Drive Solenoid
Dimensions (W/H/D) 580 x 480 x 620 mm
Location and hours
Electronics Workshop
Ground Floor
Auckland Bioengineering House
(Access via ABI Workshop)
70 Symonds St
Auckland
Workshop hours: Monday-Friday, 7am-7pm
Contact