Meet our Diversity, Equity and Inclusion (DEI) committee champions, and access minutes and other documents.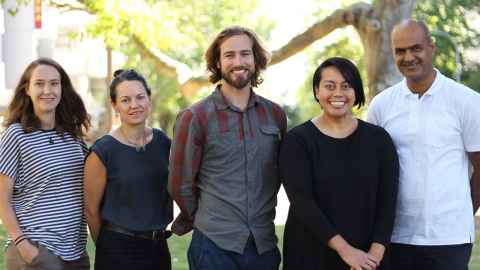 Minutes and documents
Access meeting minutes, parental and caregiver information, documents and committee operations charter on our staff intranet page. 
Associate Director of Equity and Diversity
Julie Choisne
Associate Director of Equity and Diversity at ABI and chair of the Diversity, Equity and Inclusion committee.
Email: j.choisne@auckland.ac.nz
Directory profile: Julie Choisne
As the ABI AD Equity and Diversity my role consists of (but not limited to):
Sits on the ABI Executive weekly meeting and in the Institute Strategy Planning Group
Works closely with the Director, deputy director and Associate Directors on equity matters, including equity planning, initiatives and reporting
Contributes to Faculty annual and strategic planning, as well as budget setting
Reports to senior faculty management and academic leaders through the ABI Executive Committee and Strategy Planning Group
Reports to all ABI staff through the ABI staff meetings
Reports to the Equity Action Network

Areas of interest: I want to improve the representation and visibility of women in engineering. The current ABI representation of women at postgraduate level has never been so good with around 40% of women vs 60% of men. However, the percentage of women drops dramatically when looking at senior roles. This has to change! I will organize throughout the year discussion and seminars around the perceived or encountered obstacles of being a woman in engineering. I recently joined the Women in Health Tech steering group whose purpose is to empower women with a diverse range of thinking at all levels of the HealthTech industry and assist with effecting cultural change. We focus on providing an array of networking events and the opportunity for mentoring and collaborating with other organizations in health. If you are interested in participating to one of our events, please send me an email. In addition, if you have a topic at heart you would like to discuss I would be more than happy to hear about it and organize an hour seminar around this topic.

Deputy Associate Director of Equity and Diversity
Geoffrey Handsfield
Deputy Associate Director of Equity and Diversity at ABI and co-chair of the Diversity, Equity and Inclusion committee.
Email: g.handsfield@auckland.ac.nz
Directory profile: Geoffrey Handsfield
Areas of interest: The importance of diversity in bioengineering should be obvious: ecosystems thrive when diverse representatives of plant, animal, and other organisms develop a symbiosis; diversity in genetic mixing produces strong phenotypes; and the academic tradition is based on a philosophy of discourse among diverse perspectives. Yet, diversity in the personnel representing the bioengineering community has a way to go before we achieve parity. Particularly in New Zealand, there is an underrepresentation of women, Maori, Pasifika, and other cultural communities in our field. Moreover, data are lacking on representation within our field by members of the LGBTQIA/Takatāpui community and those with disabilities.
My interest is on promoting representation by these groups within bioengineering in New Zealand and globally. Part of this involves ensuring that bioengineers from nontraditional backgrounds are supported here at the University of Auckland, and part is promoting and celebrating the diversity of cultures and backgrounds that we currently have at the ABI. Some of my specific roles on the committee involve promoting multiculturalism, women in science, and LGBTQIA/Takatāpui within the Institute. As the communications chair, I circulate information to the members of the Institute on diversity events and issues going on at the University of Auckland and in the city. I also maintain the calendar of cultural events celebrated by the ABI every year, and I help to coordinate the Women in Science seminar initiative.
Broadly as an Institute, I think we need to focus not just on recruiting members that come from diverse backgrounds, but also on supporting those members and fostering an environment where members feel that they are free and safe to represent themselves and the backgrounds and stories of where they are from. As anyone who has worked in bioengineering cell cultures will tell you, it is not enough to seed an environment with diverse cells, you need to also create and maintain the environment under which all of those diverse cell populations will thrive.
Committee members
Natalie Solomona
Email: n.solomona@auckland.ac.nz
Phone: +64 9 923 6556
Directory profile: Natalie Solomona
Areas of interest: Improve the representation and visibility of Māori and Pacific communities.
E felelei manu, ae ma'au i o latou ofaga
Birds migrate to environments where they survive and thrive
The above Samoan expression is particularly fitting for ABI – we have all chosen to "migrate" here and thrive in this supportive environment. Yet while the Institute enjoys a wealth of diversity of international cultures, ABI staff and students of Māori and Pacific descent are still a minority, despite being the second and fourth largest ethnic groups in New Zealand respectively. This seems to be common across STEM subjects generally, and the government is pushing for greater Māori and Pasifika participation and achievement in STEM education and careers to change that.
I aim to highlight ABI to potential Māori and Pacific students to increase their awareness of who we are and what we do. We need to show students what opportunities are available to them in postgraduate study and bioengineering, areas they may not have considered previously. Conversely, I want to increase awareness of Māori and Pacific cultures for our current ABI members, thereby strengthening the Institute as an environment where current and future Māori and Pacific staff and students can thrive too.
I believe the below concepts (in Samoan, Māori and English) are key to achieving these goals:
FA'ASINOMAGA | TUAKIRI | IDENTITY
Knowing who we are and where we come from.
'ESE'ESEGA | KANORAU | DIVERSITY
Celebrating our differences.
SI'OSI'OMAGA | HĀPORI | ENVIRONMENT / COMMUNITY
Providing an environment that offers wellbeing, community and resources, acceptance from others and a sense of belonging.
~ Nau mai ki ABI ~
Jagir Hussan
Email: r.jagir@auckland.ac.nz
Phone: +64 9 923 1863
Directory profile: Jagir Hussan
Area of interest: I champion the representation and access of the disability and LGBTQIA+ community within ABI. The institute thrives on its ability to integrate diverse scientific perspectives in addressing basic science questions and in the development of leading edge technologies.
I understand that disability is often not obvious and is more common than often thought. Similarly, unconscious and structural biases against the LGBTQIA+ community are common. These community members often face a multitude of barriers to access and complete graduate education. In addition to the social cost, there are significant economic losses from their exclusion. For instance, the financial cost to New Zealand for excluding disabled people from economic activity has been estimated at around NZ$11.7b (Feb 2019, MBIE). This does not include the value to communities and businesses of being inclusive of all New Zealanders, and the value to individuals from playing a more significant part in their communities through working.
My interests are in increasing the representation and interaction of the disability community with ABI's mainstream activities. Nurturing a culture of positivity and comfort within the ABI for members of LGBTQIA+ community. I work closely with the UoA Equity Office and their forums like the Disability Community of Interest. I invite members from these communities to contact me regarding exploring avenues to engage with ABI, eliminating barriers and any other inputs.