Special recognition for longtime Business School supporters
Long-standing Business School supporters who give their time to support our programmes and students were recognised at a special thank you event last month.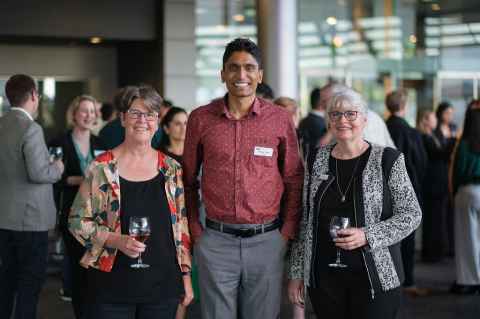 Every year, alumni and industry professionals give their time to the Business School, offering their time as guest speakers, guest lecturers, judges for student competitions, mentors, coaches, advisory board members and more.
Recent supporters were invited to a special Supporters Thank you event hosted by Dean Susan Watson at the Business School on Monday 28 November 2022. It was a fantastic opportunity to recognise and celebrate the incredible people who give their time so generously to support our students, our programmes, and the School.
Attendees heard from guest speaker, Sara Beikzadeh, currently undertaking a PhD in Food Science. Sara and her teammates participated in the Velocity 100k Challenge in 2021, with their winning venture, SuperCarbon. Sara shared with us her journey through Velocity and VentureLab, and how the support from the mentors and others on these programmes, really changed her world.
2022 Pacific Business Student of the Year, and Head Tuakana Tutor at the Business School, Salvis Laurenson, closed the event with a special thank you message to all our supporters on behalf of the student body.
Seven long-time Business School supporters received Supporter Awards at the event:
Kayur Patel for his continued support of the Careers Development team.
Duncan Ledwith for his ongoing support with programmes at the Centre for
Innovation and Entrepreneurship.
Nick McKissack for his ongoing support of the Business School's HR programme. 
Sue Muggleston for her continued support of the Master
of BioScience Enterprise.
Lloyd Budd for his ongoing support of the Property
Department and its students. (Chris Farhi from Bayleys accepted the award on Lloyd's behalf)
Janné Mildenhall and Kathryn Sandford for their ongoing support as mentors on the Business School's Women's Mentoring Programme over the last 12 years.
This was a wonderful opportunity to show our appreciation for all the
time, effort and dedication our supporters have given to us over the last few
years.
See photos from the event below.
If you'd like to find out more about ways in which you can support our students through giving your time, and sharing your
expertise please contact Natalie Newton on n.newton@auckland.ac.nz